In the early 90s Kitty O'Shea's was the busiest pub close to the Berlaymont. It was owned by the Loughney brothers, Kevin and Brian. We sometimes indulged in a version of schadenfreude, watching some of the visiting Irish delegations, fresh off the Aer Lingus flight, swallow a quota of Guinness, unaware that the extra strength export strain packed an additional punch.
Boris Johnson wasn't a Kitty's patron in those days. During leisure hours he was more likely to be found in The Old Hack, another pub a few doors away, run by an American and his Sligo partner.
Boris always gave the impression that he was disorganised. He was the Correspondent of The Daily Telegraph in his late 20s. But he was bright and he was always good fun.
His father, Stanley, was a European Commission official. Boris had been to Eton and was a past president of the Oxford Union, having studied Classics in Balliol College. His second marriage to lawyer, Marina Wheeler, connected him to blue-blood journalism.
His new father-in-law, Charles Wheeler, was a distinguished BBC Foreign Correspondent, who had a golden phase in Washington. His sister-in-law, Shirin Wheeler, was also based in Brussels in those days, working for BBC Regions. She now has a good number with the European Investment Bank.
John Downing once told a story of meeting Boris in a Brussels city centre bookshop. He had a baby's halter around him but no baby. He had forgotten to disrobe before leaving home. 
Boris carried that eccentricity into the Brussels press room. Invariably he was the one who would ask the left of field questions. He was the one who pursued theories about bent and straightened bananas. 
Margaret Thatcher had come to a sad end in 1990. After her demise the Eurosceptic cabal who supported her were certainly down. But not out. And Boris was their go-to man.
More than any other British journalist at home or abroad, he kept alive the dream that the UK's uneasy relationship with Brussels would have its day of reckoning. He had a role in resuscitating the anti-EU faction.  His columns frequently challenged and helped to puncture John Major during his six-and-a-half as prime minister.
Boris spent time building his profile and bank balance during the 13 years when Labour's Tony Blair and then Gordon Brown occupied Downing Street (1997 to 2010). But all the time his reputation was growing: MP for Henley (2001-2008), two term Mayor of London (2008-2016), government minister, (2016-2019) and then Prime Minister.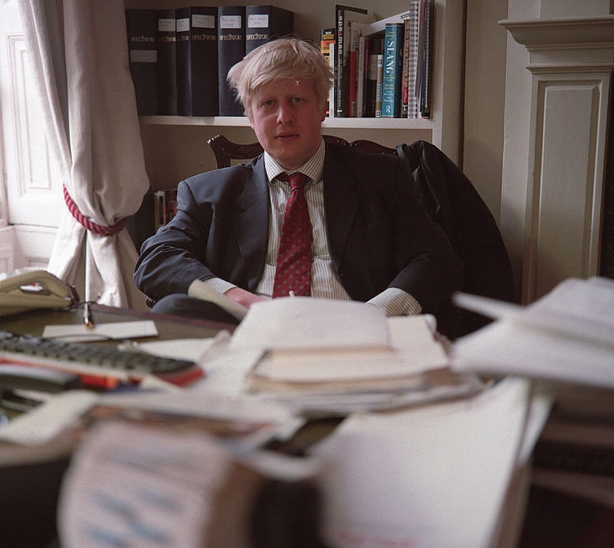 Just like the Kardashians, Boris has the nerve and the neck to be a celeb. He edited The Spectator; he acted the clown on Have I Got News For You. Last year, as Brexit fears gathered momentum, he came across to the 2019 Pendulum Summit in Dublin and pocketed a significant five-figure sum for the inconvenience.
Boris was always entertaining, often crossing the line but only fools dismissed him as stupid.
He 'out sammied' Sammy Wilson at the DUP party conference in Belfast by suggesting he would build a bridge linking Northern Ireland to Scotland.
Later this week Boris Johnson will rise early in London. He will leave his seven-month-old son and his partner in Downing Street and head for where, in many ways, his journey to the most powerful role in British politics began.
Once, during his reporter days, the sniffy types who sometimes occupy British diplomatic positions in the EU capital were wary of Boris. They were afraid some off-the-record comment or joke might provide the makings of a Boris special in the Daily Telegraph. Today he is their boss. When he laughs, when he nods, they will laugh and nod dutifully.
The media pack, a multiple of the numbers who once soldiered with Boris, now hangs onto his every word and cough. 
European leaders, from the most powerful in Berlin and Paris, must now try to second guess and engage with this maverick.
The late Hugh Coveney was on his first adventure to Brussels as Minister for the Marine in December 1994 when he took part in the annual fish quotas haggle. This week one of his sons, Simon, the Minister for Foreign Affairs, will be part of the onlooking pack, wondering if Boris can be trusted to find an amicable way of leading the UK out of the EU.
Fish is one of the problem areas in the UK/EU deadlock. In recent conversations with Micheál Martin, Boris was able to joke about his past times reporting on December Fish Councils: when ministers like the late Hugh Coveney argued that huge quantities of fish in disputed waters were Irish by birth as they had been spawned off the coast of Cork.
So later this week Boris really will be top of the bill. This is much bigger than centre stage at the London Palladium or a guest on the Graham Norton Show. 
True, the prime minister role pays only a fraction of the sums Boris may wish for and actually command at some future stage of his life as a Talk Show host, celebrity in a jungle survival competition or after dinner speaker.
He may miss the big amounts of easy money but in terms of raw political power and capacity to influence history, this is it. 
Margaret Thatcher's brief war in far-off Argentina made her popular for a while but Tory internal wrangling over Europe did her in. Tony Blair was one of a handful of crucial players who delivered the miracle of peace to Northern Ireland. Then George Bush coaxed him into a ruinous war in Iraq and sullied his reputation. 
Boris Johnson's stance on Brexit helped him to bury David Cameron and run Theresa May off the road. 
His time has come. 
Is there a master plan? And if so, what allowance does it make for the neighbouring island?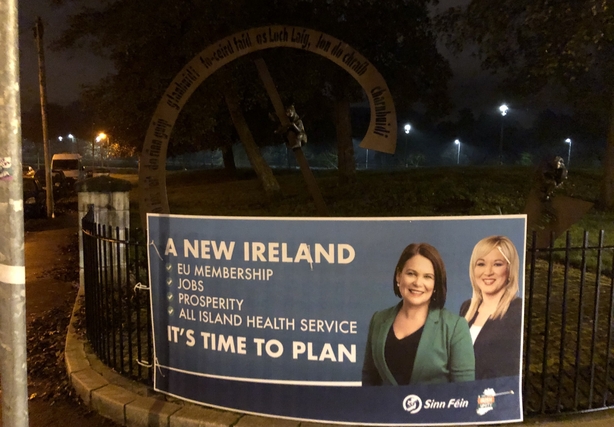 As I walked along Belfast's Ormeau Road last Sunday night a new Sinn Féin poster emerged from the fog. As they used to say in Leitrim, good snaps of Mary Lou and Michelle. And their priorities - EU Membership, Jobs, Prosperity and an All Island Health Service. Their version of the sunny uplands, ready to be sold to a post-Brexit island of Ireland electorate. (The EU pitch is an interesting advance for a party that once had its own version of Euro wariness).
But this week is all about Boris.
He is heading back to where it all began.
He, not the President of the European Commission, is venturing out from his familiar surroundings. Not without risk.
Yes, he has reached the top of the mountain.
But what comes next?