The Taoiseach has told a meeting of the Fianna Fáil parliamentary party that significant differences remain on the issue of the level playing field in the Brexit talks.
Micheál Martin said there is an ongoing risk of a no-deal Brexit, which would be very serious across the regions.
He said, however, that there is a route to a resolution on fisheries.
Minister for Foreign Affairs Simon Coveney said he believed Britain wants to find a way to strike a post-Brexit trade deal with the European Union, citing conversations with the UK government late today.
"Tomorrow is pivotal," he said on RTÉ's Prime Time, referring to a meeting tomorrow between British Prime Minister Boris Johnson and European Commission President Ursula von der Leyen.
"Having spoken to the British government this evening, I believe they do want to try to find a way of getting a deal."
Mr Johnson will travel to Brussels tomorrow for dinner with Ms von der Leyen to discuss the future UK-EU relationship, Downing Street confirmed earlier.
Ms von der Leyen said she "looked forward" to welcoming Mr Johnson adding: "We will continue our discussion on the Partnership Agreement."
I look forward to welcoming UK Prime Minister @BorisJohnson tomorrow evening.

We will continue our discussion on the Partnership Agreement.

— Ursula von der Leyen (@vonderleyen) December 8, 2020
Ursula von der Leyen's spokesman Eric Mamer told reporters in Brussels that if there is no breakthrough then a no-deal situation will apply from 1 January, but both sides could continue talking after that point on the same legal basis.
He would not be drawn on whether the EU's chief negotiator Michel Barnier would be required to step down on his 70th birthday on 9 January next year, according to the EU's internal employment rules.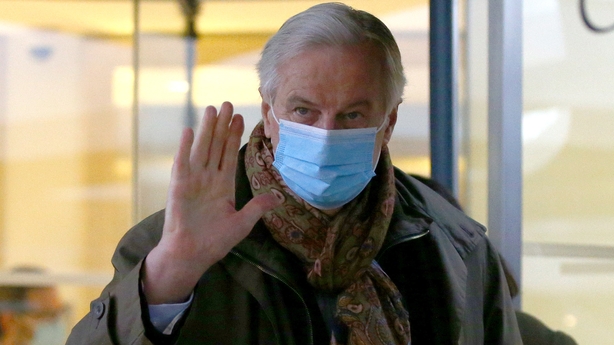 Mr Mamer said: "Yes, there's an age limit which comes into force on his 70th birthday, which applies to all EU officials and temporary agents.
"When it comes to arrangements in terms of the negotiating team it's up to the commission to decide how it intends to organise things."
NI Protocol: Agreement reached on contentious issues
Earlier, the EU and UK reached agreement in principle on how to implement the most contentious issues around the Northern Ireland Protocol.
The agreement was announced in a joint statement by European Commission Vice-President Maroš Šefcovic and UK Cabinet Office Minister Michael Gove.
As a result of the agreement the UK will withdraw the clauses in the Internal Market Bill, which would have breached the Northern Ireland Protocol, and "will not introduce any similar provisions in the Taxation Bill," the statement said.
It follows intensive discussions through the EU UK Joint Committee, which implements the Withdrawal Agreement.
Solutions in principle have been found on the question of food imports from Great Britain to Northern Ireland supermarkets, the issue of EU state aid rules, the supply of medicines to Northern Ireland and the question of the EU's presence in the North.
The Joint Committee, co-chaired by Mr Gove and Mr Šefcovic, has also agreed in principle on the question of which goods of GB origin would be at risk of crossing the border to the south and thereby potentially attract a tariff.
Agreement has also been reached on the exemption of agricultural and fish subsidies from state aid rules, as well as a list of members on an arbitration panel that will mediate on disputes relating to the Withdrawal Agreement.
The agreement will be formally approved by EU member states and the UK in the coming days. Once this is done, a fifth regular meeting of the EU-UK Joint Committee will be convened to formally adopt them.
???????? Pleased to announce that thanks to hard work, @michaelgove and I have reached an agreement in principle on all issues re the #WithdrawalAgreement implementation. This will ensure it is fully operational as of 1 Jan, incl. the Protocol on Ireland/NI ?? https://t.co/RaWNEVbxrt pic.twitter.com/1OCjapNd3F

— Maroš Šefcovic???? (@MarosSefcovic) December 8, 2020
---
---
Minister Coveney said the Northern Ireland agreement was "a very important positive" as it meant the issues around the border were now all settled.
"What this does now is it provides the guarantees that Ireland's place in the single market, and the issues around the border, are now all settled - in terms of implementation as well as the deal that was done at this time last year in the Withdrawal Agreement."
Foreign Affairs Minister reacts to UK withdrawal of clauses breaching NI Protocol. Camera ?@PaulDeighano? ?@rtenews? pic.twitter.com/GbLChYGEOG

— Mícheál Lehane (@MichealLehane) December 8, 2020
It comes as EU chief negotiator Michel Barnier warned EU foreign ministers that he now believes a no-deal departure is more likely than a trade deal being brokered before the end of the transition period on December 31.
Earlier, Mr Johnson warned that the talks with the EU were proving "very tricky" and while he was still hopeful about reaching a deal, it was proving "very, very difficult" to make progress.
Talks have faltered on the issues of fishing rights, the "level playing field" measures aimed at preventing the UK undercutting the EU on standards and state subsidies, and the way that any deal would be governed.
In a message to Brussels, Mr Johnson said: "Our friends have just got to understand the UK has left the EU in order to be able to exercise democratic control over the way we do things.
"There is also the issue of fisheries where we are a long way apart still. But hope springs eternal, I will do my best to sort it out if we can."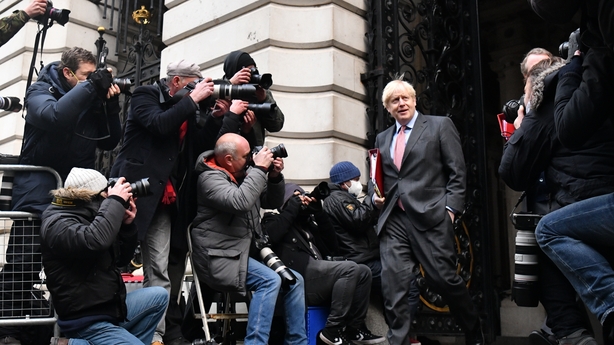 Positive reaction from NI business leaders
Meanwhile, Northern Ireland Retail Consortium CEO Aodhán Connolly said today's Protocol agreement announcement was "very welcome" and "hugely positive".
However, he said businesses in Northern Ireland "will need the technical detail of these solutions as soon as possible".
He said: "We still need the conclusion of a free trade agreement to remove customs frictions and with three weeks left to go we still will need an implementation period to allow us to comply with the new requirements.
"While this is a positive step there is still much to do in little time," he added.
The British Irish Chamber of Commerce also welcomed the agreement.
In a statement, director of policy Paul Lynam said: "With the issues surrounding the protocol resolved, businesses now urgently need to begin preparing for changes that will come into force from the beginning of next month.
"We urge negotiators on both sides to use the momentum achieved today to reach a trade deal in the coming days so companies do not face the prospect of new tariffs being imposed in the new year," he said.
Meanwhile, the Cabinet received what was termed a comprehensive overview on the country's Brexit preparations, by Minister Coveney.
The analysis covered contingency planning for both a trade agreement being reached between the EU and UK, as well as a no-deal scenario.
Leaders of the EU's 27 member states are due to gather in Brussels on Thursday for a two-day summit, potentially giving political impetus for a deal.
Additional reporting: Tony Connelly, PA