Monsignor James Horan's dream becomes a reality as commercial flights arrive and depart from Knock Airport.
At 10:08 flight number 4962, the first of three airliners to inaugurate commercial flights, descends into Knock Airport, County Mayo. The three Aer Lingus planes are charter flights carrying passengers on a pilgrimage to Rome.
Passengers on a coach bound for Knock Airport are excited about their upcoming trip. They have nothing but praise for the dynamic Monsignor James Horan, the driving force behind the construction of Knock Airport as well as the building of modern pilgrimage facilities at Knock, including a basilica.
I'm delighted; it's the best day of my life in all my travels.
On arrival at Knock Airport the pilgrims bound for Rome are personally greeted by Monsignor Horan. Members of the press also gathered at the airport are eager to question Monsignor Horan about his achievement.
Monsignor Horan is thankful to everyone who helped him realise his dream and now he hopes the airport will bring prosperity to the whole province of Connacht.
Faith won the day, not money because God sends the money.
A steward recalls a wish list for Knock compiled in 1970 included a Papal visit, building a new basilica and opening an airport. Due to Monsignor Horan and a lot of hard work,
All of those have been realised today.
'Good Afternoon' provided continuity links between RTÉ 1's afternoon programmes, with Thelma Mansfield as presenter.
This edition of 'Good Afternoon' was broadcast on 25 October 1985.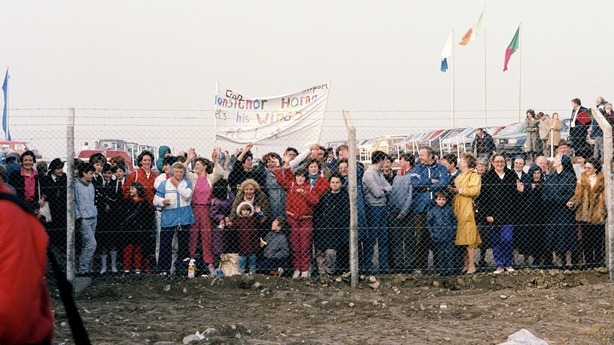 Crowds at Knock Airport, County Mayo, during Aer Lingus' inaugural flight.