The people of Divis Flats in west Belfast unite to clean-up the huge complex.
The tower blocks of Divis Flats in west Belfast are often the scene of trouble and destruction. In 1981 the Divis Residents' Association was set specifically to get rid of signs of summer rioting. Volunteers, all residents of the huge complex, got together and cleared litter, painted out graffiti and removed 40 burned out cars.
A year on and the Divis Flats is having another clean-up from 12 to 22 August. It is being supplied with materials by the Northern Ireland Housing Executive and the Department of the Environment.
Chairperson of the Divis Residents' Association, Father Patrick Buckley is spearheading the clean- up operation,
All ages are involved and there is a lot of pride in the work.
A team of women with armed with brooms are busy sweeping away debris. They think Divis residents are often judged on the behaviour of a few as,
There's the best of people in Divis.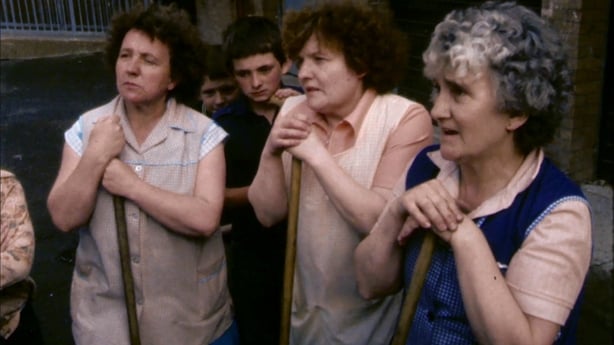 The clean-up is a sign of a deeper change visible in Divis. There has been a dramatic reduction in trouble and joyriding in the huge complex,
Recently residents even destroyed 200 petrol bombs which youths had stockpiled for use against the security forces.
Father Patrick Buckley believes this change can be directly linked to the Divis Residents' Association's efforts. The group had various aims from the outset,
One of them was to quieten the place down and the other of them was to clean the place up.
He believes the Association has been successful in both aims, as the area is much quieter than it was a year ago.
An RTÉ News report broadcast on 17 August 1982.