A massive thunderstorm causes flash flooding and traffic chaos in some parts of south Dublin.
Torrential rain showers between 3 pm and 4 pm have left some south Dublin residents knee-deep in flood water. Up to 20 mm of rain was reported to have struck parts of Rathfarnham. Grange Park was the area most affected after a tributary of the Dodder River burst its banks during the deluge.
Cars proved useless in the face of rising flood waters.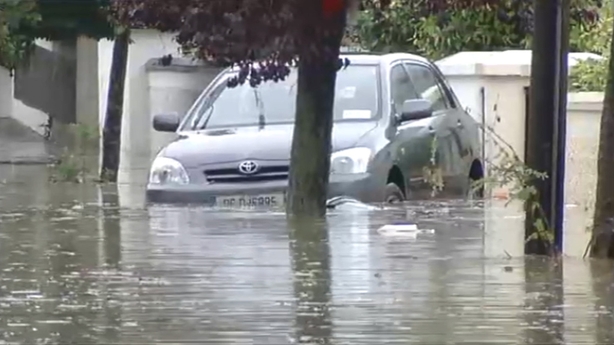 Flood waters cut off access to Whitechurch Road and traffic ground to a halt for a period during the late afternoon. Parts of the M50 and the N7 were also flooded leading to traffic chaos and long tailbacks.
While the rain has eased and the water is subsiding, concert goers attending Peter Gabriel and Crowded House in Marlay Park are advised to bring their wellington boots.
An RTÉ News report broadcast on 22 June 2007. The reporter is Kathy Donaghy.