The Market Cross, a 1,000 year old high cross is removed from its site in Kells for repairs and cleaning work.
The Market Cross in Kells, County Meath is a sandstone high cross carved in the late 9th or early 10th century. It stands in the centre of the town at the junction of Market Street, Castle Street and John Street.
According to the Office of Public Works (OPW) the 1,000 year old high cross of Kells is badly eroded and in need of protective work. In December 1996 the cross was damaged after being hit by a school bus.
Arrangements have been to move the cross to undertake repairs and cleaning work at an OPW depot in Trim. Willie Cumming of the National Monuments Service is confident the removal will be a success,
Once you've done your preparation I think everything should be OK.
Townspeople watch as the cross is slowly moved off its base by a crane and onto a waiting lorry. Michael Allen explains two Urban Councils voted to have the cross moved from the junction.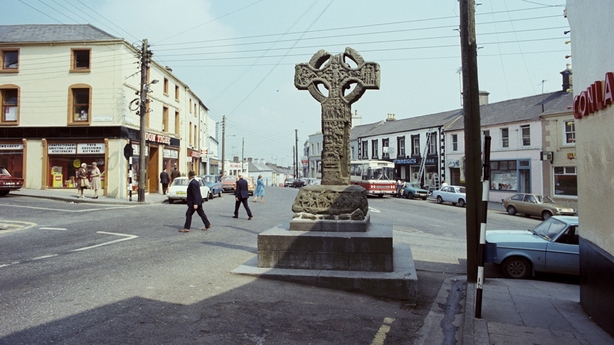 There is much debate about where the repaired cross should be placed. Those who want the cross put back at the junction are calling for the street to be pedestrian only. Then a structure could be built to give the cross protection. Chairman of the Kells Save Our Cross Committee David Butler wants the cross to be returned to its original site.
You have the Eiffel tower, you have other great monuments they're all left where they should be.
An RTÉ News report broadcast on 15 January 1997. The reporter is Alasdair Jackson.
In 2001 the Market Cross was re-erected outside the old Kells courthouse, on the north side of the old Navan Road.