Residents in Buncrana County Donegal occupy a dump demanding its closure.
Bridie Porter lives practically next door to the local dump in Buncrana County Donegal and has to pass it every time she leaves her house.
Over the past seven weeks, over a hundred people have picketed the dump day and night demanding its closure. The dump has been in operation since 1925 and has become the object of growing discontent among the locals who are now taking matters into their own hands.
Protester and Buncrana Resident Kathleen Doherty says objections to the dump were lodged ten years ago but nothing has been done.
We're here because we want the dump closed down and fumigated.
As a result of the smell, dirt and smoke generated by the dump, children can't play outside their houses, residents can't hang out the washing, they can't leave their windows open, and they face problems with rats.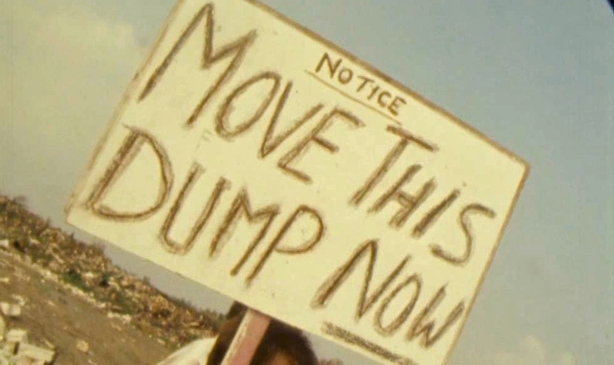 Buncrana Dump Protest (1981)
The local authority was able to open the dump 50 years ago as there were very few people living in the surrounding area. However, since then, the population of Buncrana has increased and the area is now dotted with new houses.
The problem Donegal County Council now face is to find another dump and close this one or else face the opposition of these people.
An RTÉ News report broadcast on 8 September 1981. The reporter is Tommy Gorman.