Packed streets and pubs in Buncrana in County Donegal for the Fleadh Cheoil na hÉireann.
Security was tight at the festival due to the proximity to the border with five hundred extra Gardaí drafted in for the duration of the festival. Garda checkpoints were set up at entry points to the town. Despite security concerns, there were just a handful of minor incidents.
Festival goers from Ireland and overseas stayed in makeshift campsites around the town for the three day festival.
The town was packed for the duration of the festival and nearly every shop was turned into a temporary cafe or restaurant to feed the visitors.
True to tradition, not a spare pew could be had in any of the pubs.
It was all about the music of which there was plenty.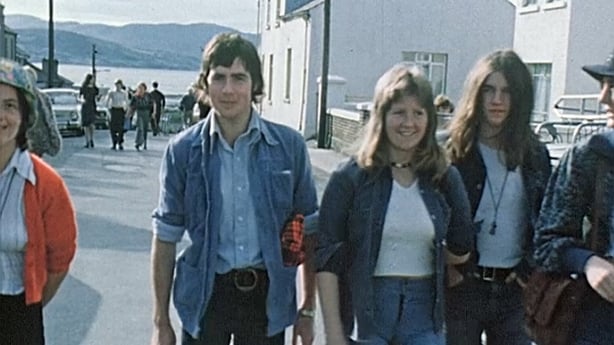 Festival goers at the Fleadh Cheoil na hÉireann in Buncrana (1975)
However, not everyone was happy about the festival taking place in Buncrana and some people thought that Buncrana was too remote and too close to the border to attract a big crowd. Critics also argued that those that did come did not have enough money to spend.
John McCracken, Chairman of the Fleadh, spoke to reporter Jim Dougal about the success of the Fleadh and how Buncrana is an ideal setting for the festival.
An RTÉ News report broadcast on 4 September 1975. The reporter is Jim Dougal.