As Roy Keane announces his retirement people in his native Cork pay tribute to an outstanding footballer.
A portrait of Roy Keane graces the stairwell in the Crawford Municipal Art Gallery, he has been awarded an honorary Doctorate of Law from University College Cork, and been made a Freeman of Cork. Such is the esteem with which Roy Keane is held by his native city.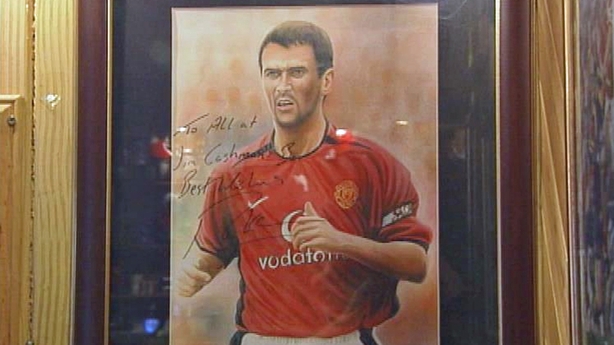 Roy Keane painting in Crawford Municipal Gallery in Cork (2006)
In Cork, there's only one boy and that's Roy.
Following a successful career as a player at Nottingham Forest, Manchester United and Celtic FC, the news of his retirement brought disappointment but no real surprise. The people of Cork wish him well in the future.
Josephine Casey's brother Frank O'Farrell managed Manchester United in the 1970s and has great time for Roy Keane. She pays tribute to his charity work and describes him as,
A Cork man, true and true.
Roy Keane started out at Rockmount Football Club. Chairman of the club John Delea pays his tribute.
The greatest Manchester United captain ever, the greatest Manchester United player, the greatest Ireland player ever. His likes will never be seen again.
An RTÉ News report broadcast on 12 June 2006. The reporter is Jennie O'Sullivan.