The Late Late Toy Show begins with a slide and performance from the Billie Barry Kids.
Gay Byrne opens the Late Late Toy Show with a go on a slide.
It's that time of year once again.
The first toy to feature is 'The Mushroom House' a fibreglass children's slide made in Carlow.
Heaven knows what's going to happen in the next two hours or so.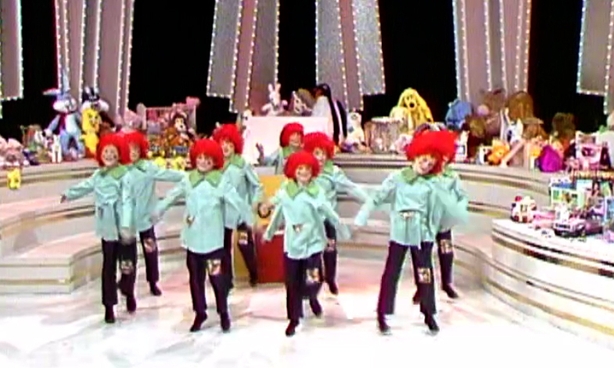 Billie Barry Kids performing the Bosco Bop on The Late Late Toy Show (1985)
A music and dance performance comes from Late Late Toy Show regulars The Billie Barry Kids, who are celebrating 21 years. They perform 'The Bosco Bop' especially written by Late Late Show musical director Frank McNamara.
We start with a group without who the Toy Show would not be the Toy Show.
This episode of The Late Late Show was broadcast on 6 December 1985. The presenter is Gay Byrne.