At a retrospective of his bronze sculptures and etchings in Dublin, the sculptor Michael Ayrton explains why the Greek myths of Daedalus are a dominant theme in his work.
The Lad Lane Gallery in Baggot Street, Dublin is the venue for a retrospective exhibition of bronze sculptures and etchings by the English author, illustrator, sculptor theatre designer and filmmaker Michael Ayrton.
A number of the works exhibited at the retrospective may be turned around and viewed from all angles. Michael Ayrton's bronze and perspex sculpture 'Discovery of Nautilus' means a great deal to him as it was his first use of mirrors in sculpture.
I don't think actually anybody's ever used sculpture in quite this way before.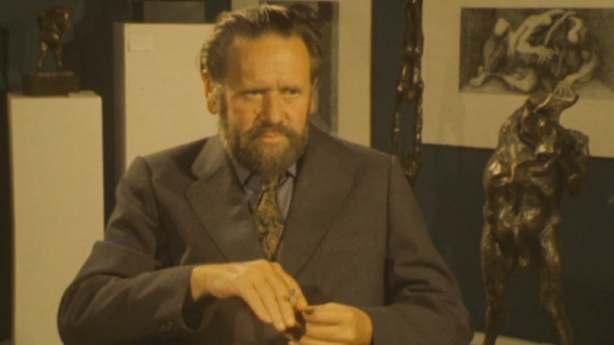 Michael Ayrton (1975)
When in southern Italy, Michael Ayrton experienced a genius loci, the protective spirit of a place. This definitive experience informed him,
This is an answer to what you've been looking for and this is an answer about who you yourself are.
Michael Ayrton believes the human species has a need for mythology and the Greek myths of Daedalus, Icarus and the Minotaur have dominated his own work. Icarus's father Daedalus the mythical Greek inventor, architect, and sculptor holds a particular appeal to Michael Ayrton because
He is the archetypal craftsman; he's the first sculptor, the first inventor in legend, so he sums up all the qualities in a way that I suppose I would like to possess myself.
From the earliest times, Michael Ayrton says humans have created art to identify their own place in the world rather than to create on a decorative level. He believes this is definitely the case for his own art.
This episode of 'Last House' was broadcast on 11 September 1975. The reporter is Tom McGurk.