Frustration at the long waiting times to get a home telephone and the poor availability of public pay phones.
Ireland's telephone system is the most outdated in Europe. When can we expect to have the technology to improve our telecommunications?
In Carbury, just 33 miles from Dublin city centre, to make a phone call to anywhere, a connection must be made through the manual telephone exchange run by local postmistress Kathleen Broderick. These manual exchanges represent just five per cent of all exchanges in the country and it is expected that they will have been replaced within two years.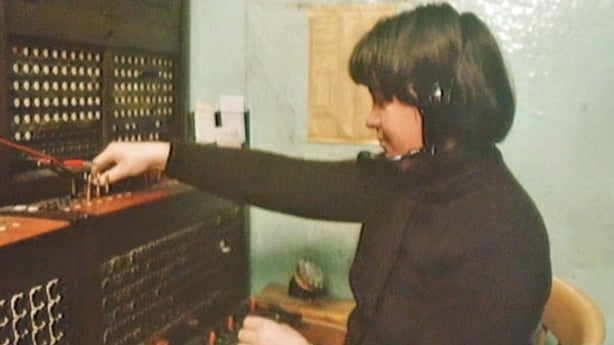 Kathleen Broderick Post Mistress and Telephone Exchange Operator (1980)
In Tallaght, conceived as a satellite town to Dublin with a projected population of around a hundred thousand, there is no hospital, public transport is bad, and communications are even worse.
One public telephone box located in Old Bawn serves the Ailesbury Estate with almost a thousand houses and at the moment it is out of order. Residents on the estate are frustrated by the waiting times to have a telephone installed in their houses with many having applied two years ago.
The nearest phone, actually it's down in the pub.
Jim Higgins of the Ailesbury Estate Residence Association outlines the options or lack of options available if locals want to make a phone call. The options are the pub, the broken phone in the kiosk and the parish priest's house.
'Week In: Could You Hold A Minute Please?' was broadcast on 25 February 1980. The presenter is Pat Kenny.