It is time to harvest apples from the orchards of Clonmel in Tipperary for the production of cider.
Hundreds of acres of orchards in south Tipperary are being stripped of their fruit. Thousands of tonnes of apples will be used in multi-million pound business of producing cider. Modern agricultural technology means that at harvest time the apples are no longer knocked off the trees by hand. Instead,
The whole tree is grabbed mechanically, and given a good shake.
While cider has been made in Ireland for centuries, it was only in 1935 that it began to be produced on an industrial scale.
When the apples arrive at the Bulmers factory in Dowd's Lane, they are washed and pulped before going through a process similar to the original wine making method. The juice is squeezed from the pulped apples, before going to the fermentation vats. Terms like cheese, slats and hare are everyday parlance here. As Andrew Healy of Bulmers Ltd. explains,
We've a lot of old terminology.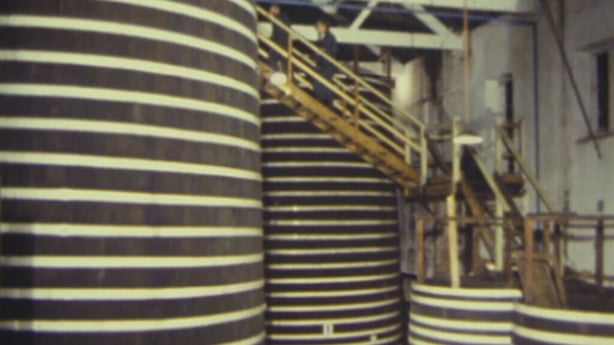 Fermentation vats in the Bulmers cider factory, Clonmel (1984)
Consumption of cider in this country is on the increase, and apples are being taken in from the orchards of County Waterford and the north of Ireland to keep up with the demand. Clonmel's cider company alone is worth £15 million a year, due to the shift in drinking pattern away from beer.
Bulmers Marketing Manager Tony Brophy says that this is down to their Stag product which has proven attractive to younger female drinkers, and the introduction of draught cider.
We think there's a tremendous potential within the cider market.
An RTÉ News report broadcast on 12 October 1984. The reporter is Michael Ryan.