A delegation from Montserrat are in Feakle to thank the people of Ireland for their help following the devastation of their island by a volcanic eruption.
There was dancing at the crossroads Caribbean-style in Clare this afternoon.
The Banner men and women and the Black Irish, as many Montserratians believe themselves to be, gathered to highlight the devastation wreaked on their island home by a volcanic eruptions in 1995. The Montserrat group wanted to thank Irish people and organisations for their help in rebuilding the Caribbean's Emerald Isle.
Chief Minister of Montserrat David Brandt thanked Irish League of Credit Unions for its contribution of US$100,000 to the St Patrick's Credit Union on the island,
That may seem small to you, but it was of a great help, it is equivalent to millions of dollars to us.
Michael D Higgins, who has been active in researching the connections between Montserrat and Ireland, believes there is still more that Irish people can do,
We would need to have hearts of stone not to think that we would want to be part of reconstructing the new Millennium's relationship with the Caribbean.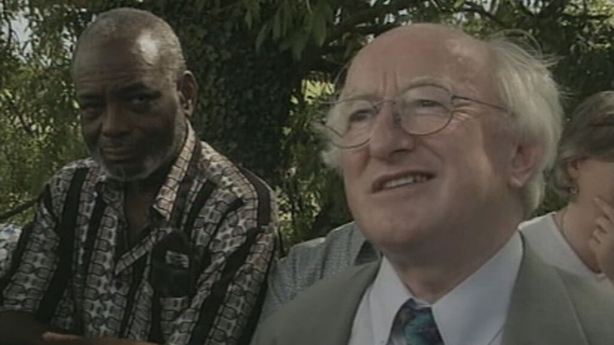 Michael D Higgins, Feakle, Co. Clare (1999)
The national day on Montserrat is St Patrick's Day, 17 March, and Irish settlers who came to Montserrat in the seventeenth century named their villages Cork, Galway and Kinsale.
Today it really didn't feel all that far from Clare to there.
An RTÉ News report broadcast on 7 August 1999. The reporter is Jim Fahy.