Security in place at Shannon ahead of the arrival of President George W Bush for an EU-US summit at Dromoland Castle.
Army surveillance and patrols along the quiet country lanes behind Shannon Airport ensure that its seven mile perimeter fence is secure.
Anti-war groups will hold a protest demonstration tonight in Shannon town centre before marching to the airport. They have been critical of the scale of the preparations around Shannon.
Mayor of Shannon Greg Duff will be among those protesting,
I can only express the feeling of what it must be like for the Palestinians behind walls and barriers, something that President Bush himself has encouraged.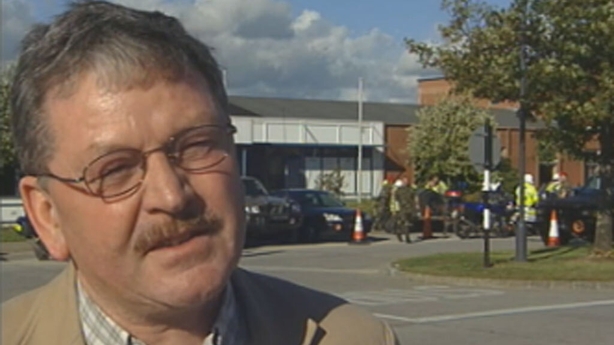 Mayor of Shannon Greg Duff (2004)
Workers in Shannon's industrial estate have also been watching the Defence Forces' armoured cars patrolling the area. Many have mixed feelings on the visit. Jason Dawson does not agree with US foreign policy, but says,
People are worried that if we don't welcome him, American companies will pull out of the country.
Later in the afternoon the Garda riot squad arrived and began to get ready for their shift in Shannon, in time for the anti-war protest march.
A campaign called amBush 2004 is the organiser behind tonight's demonstration and the Shannon Peace Camp. Made of grassroots network groups from Galway, Cork, Dublin and the mid west. Their spokesperson Terry Clancy remains undaunted at the presence of the Gardaí and the Defence Forces,
We'll go ahead with our constitutional right to peaceful assembly, come what may, and we'll be here tomorrow as well.
As it stands, Gardaí are have not said if President Bush will travel by road past the protestors, or be taken by helicopter to Dromoland Castle.
An RTÉ News report broadcast on 25 June 2004. The reporter is Jim Fahy.