Civil Defence volunteers take part in a national competition to test their rescue skills.
Over one hundred Civil Defence volunteers gathered in Dungarvan at the site of a former industrial plant to take part in a simulated rescue operation.
The Waterford County Civil Defence hosted a total of 600 volunteers from the country's eight Civil Defence regions. This is the sixteenth year of the event specifically designed to improve the search and rescue skills of the Civil Defence volunteers.
The organisation currently has 10,000 members who support the front line emergency services who use their combined manpower and skills during search operations and emergency situations.
Following the Chernobyl disaster, the government created a new role for the Civil Defence, who will now provide assistance in the event of a major nuclear accident.
Eamonn Farrell who is Principal of the Civil Defence School tells RTÉ News about one facet of that role,
We have got new radiation equipment...we can have readings back from over 600
points in the country within three hours.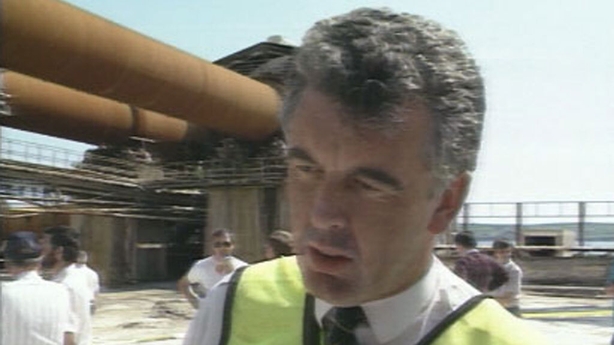 Eamonn Farrell, Civil Defence (1989)
An RTÉ News report broadcast on 27 May 1989. The reporter is Cathy Halloran.