Raisa Gorbachev, the wife of President of the Soviet Union Mikhail Gorbachev, visits Bunratty Folk Park in County Clare.
While the President of the Soviet Union Mikhail Gorbachev meets with An Taoiseach Charles Haughey in Shannon Airport for the first Irish-Soviet summit, his wife Raisa visits Bunratty Folk Park in County Clare.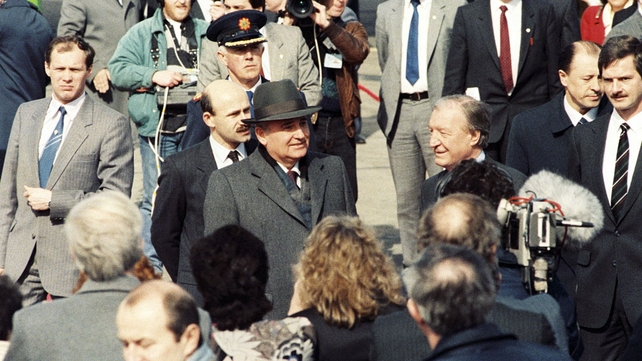 Amid tight security, the Soviet first lady is accompanied on her visit by the Taoiseach's wife Maureen Haughey and Tánaiste Brian Lenihan's wife Ann, along with the wife of the Soviet Ambassador, Julia Uranova, and the wife of the Irish Ambassador to the USSR, Monica Whelan.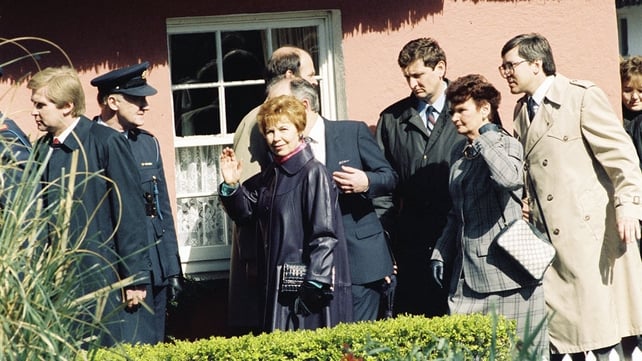 During the visit to the 19th century folk village, Mrs Gorbachev demonstrates an insatiable curiosity about everything around her, asking many questions about Irish life past and present.
The nearest she comes to the real Ireland is meeting local man Pat Crowe and at the Bunratty Folk Park schoolroom there is the opportunity to meet some Irish children.
Mrs Gorvachev is also treated to an Irish dancing display by dancers from the Celine Penny School of Dancing in Limerick.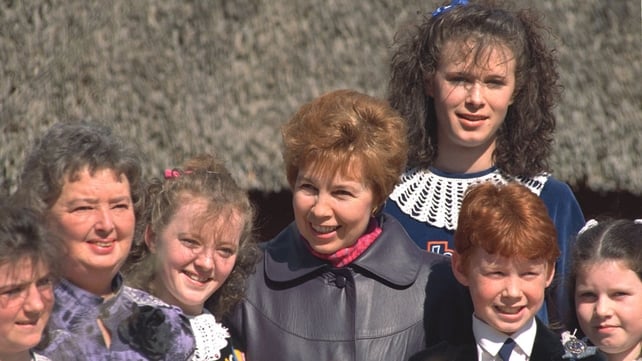 At the end of her 40 minute visit, Mrs Gorbachev bids farewell to the throngs of onlookers and international camera crews saying through her interpreter.
I've been happy to see a small piece of Ireland, the Emerald Island, but I've been moved even more by meeting you all, thank you.
An RTÉ News report broadcast on 2 April 1989. The reporter is Jim Fahy.