Dublin retailers nervous about the impact of the recession on business ahead of the Christmas shopping rush.
With a modest improvement in the economy, retailers are hoping for increased turnover and profit. However, for many traders, things have started slowly. There also seems to be evidence of the city's north-south divide.
Dublin's retailers have been expecting one of their best Christmases in several years.
A street trader in Henry Street has seen no increase on business from last year.
General Manager of Clerys department store on O'Connell Street Tom Rea says that shoppers are being extremely cautious about how they spend their money. Among the best selling items in Clerys this year are computers, which have now replaced snooker tables as the most popular present.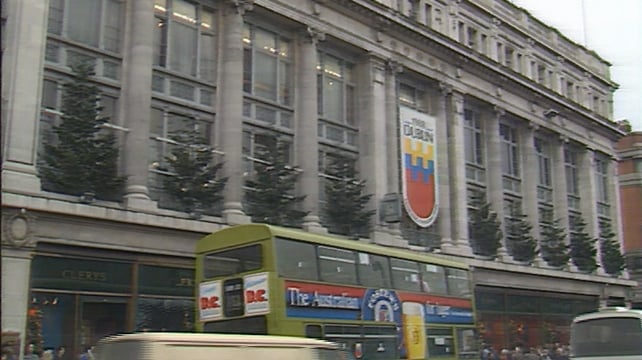 Clerys, O'Connell Street, Dublin (1988)
Manager at Brown Thomas on Grafton Street George McCullough says that sales have been better than they expected and predict that overall business should be up by around fifteen per cent this Christmas.
An RTÉ News report broadcast on 15 December 1988. The reporter is Bryan Dobson.