Leaving Certificate students test their business acumen during the final of the national management game.
The final round of the National Management Game for schools is being held at ICL House, Dublin. Organised by ICL (International Computers Limited), 100 teams entered, and the final four now battle it out to see who has the best management skills. Students do not necessarily need to currently study business, commerce or economics, but they must be in their Leaving Certificate year.
The four teams have been presented with a set of fictitious company accounts. Decisions must be made on how to budget and allocate funds for research, production, marketing, transport, and many other aspects of running a private company.
The results are inputted into a computer, which produces the final set of accounts. The team who makes the largest overall profit will win.
As each group is in a separate room they are unaware of how the other teams are doing. The team from Loreto Convent Mullingar say that although under pressure they are enjoying the experience. What are they getting from all this?
We've learned how a company runs...how important things like marketing and research and development...it's so important to watch your prices.
Business as an academic subject has become really alive for them,
I would be very interested in going on, to take Commerce or a BComm, or something like that.
Jim Crossan from ICL is very pleased that the game attracted entrants from all parts of the country. He thinks it is an excellent exercise for young people, who might not have any practical experience of what happens in the business world,
It also helps them to think about their own future, whether they're going to be accountants or engineers or production technicians..
When they enter the workforce, these young people will most definitely be assets for their employers, says Crossan, as the standard here is very high,
I think many of the adult teams would find their work cut out to be competing with these junior industrialists.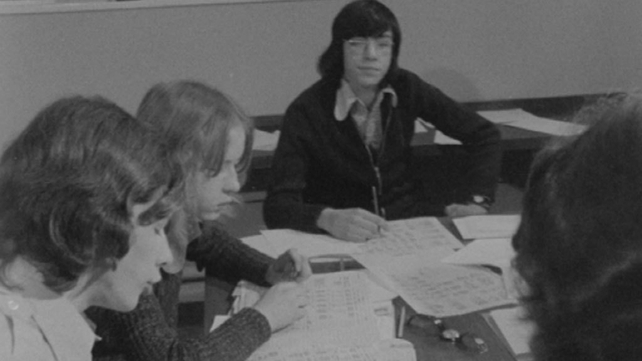 Leaving Certificate students compete in the National Management Game for schools (1973)
A miscellany of events, entertainment, opinions and personalities, 'Tangents' was first aired on Monday 25 September 1972 and ran until 1974. Tangents was presented by Cathal O'Shannon and Doireann Ní Bhriain on Monday, Wednesday, Thursday and Friday and by John O'Donoghue each Tuesday
This Episode of 'Tangents' was broadcast on 7 December 1973. The reporter is Janet Moody.