How will the plans for the redevelopment of Moore Street affect the old Dublin market?
Generations have shopped for food on Dublin's Moore Street where the stalls have been run by the same families for decades in a market many consider to be the heart of the city.
More than just a shopping centre, a way of life.
Liverpool too had a great tradition of street trading until the market was built over to be replaced by St John's Shopping precinct, a development which successfully incorporated the street traders in a section of the redevelopment. The St John's Market could act as a model for the Moore Street development.

As part of the Dublin City Development Plan, the corporation hopes to develop a similar scheme for Dublin taking in the north end of Moore Street, part of Parnell Street, and Chapel Lane amounting to about eight acres. Compulsory purchase orders have already begun to make way for the development.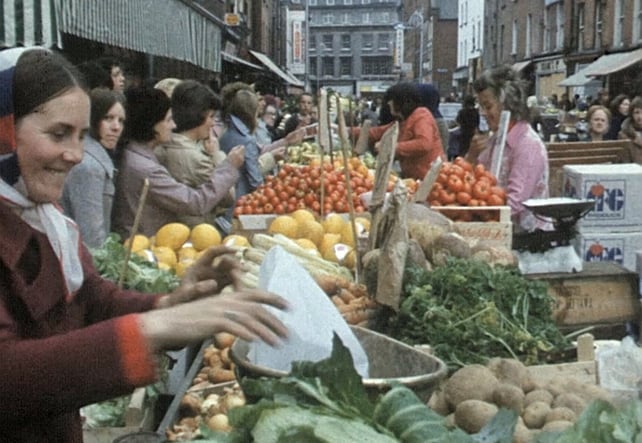 Moore Street Traders at work (1973)
In spite of the coming changes, life continues on Moore Street much as it always has done. Some of the street traders give their views on the planned changes.
Moore Street will never change. Moore Street will always be Moore Street.
Noel Carroll, Public Relations Officer with Dublin Corporation outlines their plans for the area in the hope of revitalising the commercial potential of the area while retaining the unique trading character of the market.
Moore Street is more than just a street. It's almost a culture.
This episode of 'Seven Days' was broadcast on 19 October 1973.