On the main street of their home town the Bunclody Céilí Band play some marching tunes during the Fleadh Cheoil.
Musicians from all over Ireland gathered in the north Wexford town of Bunclody, for the 1963 Fleadh Cheoil na hÉireann, organised by Comhaltas Ceoltóirí Éireann (CCÉ).
The local Bunclody Céilí Band, who are all members of CCÉ provide the entertainment here. They give renditions of the marching tunes 'Kelly the Boy from Killane' and 'The Boys of Wexford'.
They are introduced by Seán Ó Murchú, who presented the traditional music programme 'Céilí House' on Radió Éireann for many years.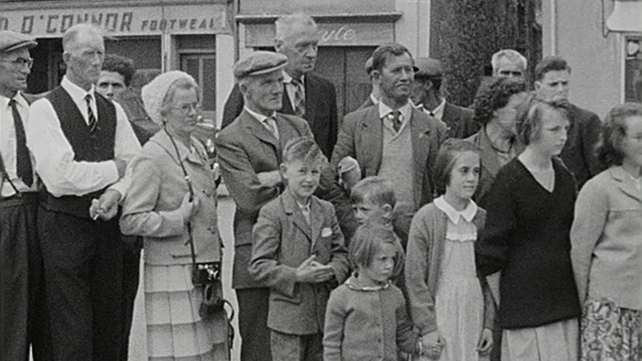 People listening to the Bunclody Céilí Band, Main Street, Bunclody (1963)
'By The Streams of Bunclody' was broadcast on 4 August 1963. The presenter is Seán Ó Murchú.