Raheny may now be a Dublin city suburb but its origins are as an estate village.
Shay Healy takes to his millennium bicycle, one of just one thousand, to keep pace with local guide and marathon runner Dick Hooper who takes him on a tour of the Raheny community.
Raheny, or Ráth Eanaigh in Irish, is situated along the coast about five miles north of Dublin city centre. Until the 1950s, Raheny was still very much an estate village with tenants of Edenmore House living in the estate cottages. The estates also provided jobs for locals.
In the early 1960s, new housing estates were built and the first suburbanites moved into the area. Raheny has managed to maintain its village identity with old and new coexisting.
With Saint Anne's Park to the south and Bull Island to the east, Raheny is surrounded by nature.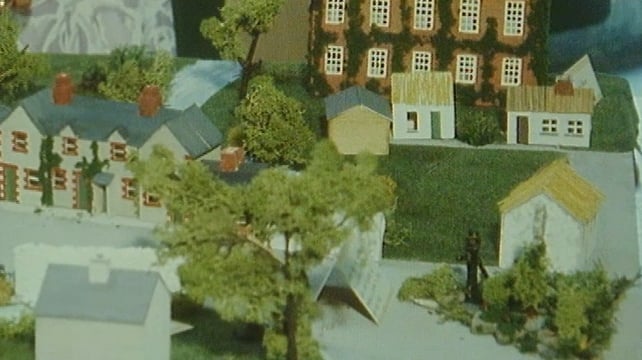 Model of Raheny Village
The Raheny Family and Local History Society have put together an exhibition of the area's past with a detailed model of the old village. Native Rose Daly and a "blow-in of fifty-four years" Tommy Duffy spoke to Ingrid Miley about the exhibition along with their personal stories of living in Raheny.
Rose Daly describes her family history going back to when her father worked on the estate and how in 1941 Dublin Corporation took over the estate cottages. Tommy Duffy describes old Raheny as "very rural, very country". He moved to Raheny when he got married and says that people were envious of him because it was considered such a nice place to live. Tommy also tells of his involvement in a campaign to get better services for the area.
'The Dublin Village: Raheny St Annes' was broadcast on 8 July 1988. The programme was presented by Shay Healy and Ingrid Miley.