A memorial to the late President Cearbhall Ó Dálaigh is unveiled by President Patrick Hillery in Sneem, County Kerry.
Designed by the Cork-born sculptor Vivienne Roche, this work of modern art in triangular steel is located in South Square Fair Green in Sneem,
According to its artist Vivienne Roche, it's informed by the spirit of Cearbhall Ó Dálaigh, and of the place in which is stands.
On his arrival in Sneem, President Hillery inspected a guard of honour, drawn from the 15th Batallion, FCÁ (Forsa Cosanta Áitiúil). The president is also greeted by a small group of demonstrators calling for the release of Portlaoise hunger striker Nicky Kelly.
Many politicians are present, along with diplomats from Germany, Australia, Austria and Nigeria, and representatives from the main churches in Ireland. Chinese poet Lin Lin, in Ireland for Listowel Writers Week with a delegation from China, had composed a poem for the occasion. A translation of it was read by the actress Siobhán McKenna.
In his address, President Hillery paid tribute to a man who had devoted his life to the service of the nation, and who had departed from public life in dignified fashion,
They say that the courageous of this world do not need our applause to give significance to their actions. Rather are we in need of their inspiring example. Cearbhall Ó Dálaigh's life of faithful service set an example not only for his contemporaries, but for generations of his countrymen and women to come.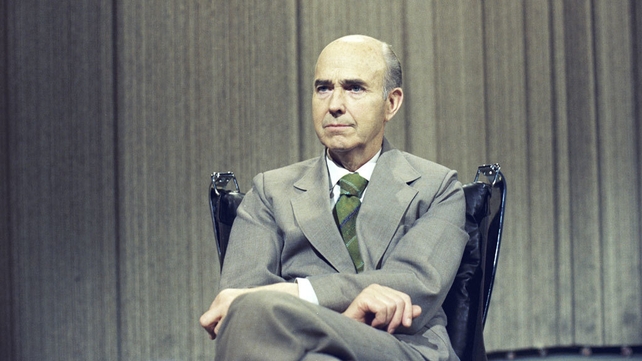 President Cearbhall Ó Dálaigh (1976)
An RTÉ News report broadcast on 6 June 1983. The reporter is Michael Walsh.