An Irish New York policeman gets the parade started in the Big Apple. In Cork a Viking ship is popular with spectators.
Mike Burns reports from the world's biggest St Patrick's Day parade in New York with 150 bands and 125,000 people taking part in the parade and a million people lining the sidewalks. The 1968 parade was the 206th St Patrick's Day Parade.
The biggest St Patrick's Day demonstration of its kind anywhere in the world.
All the counties are represented at the parade as well as the many Irish associations.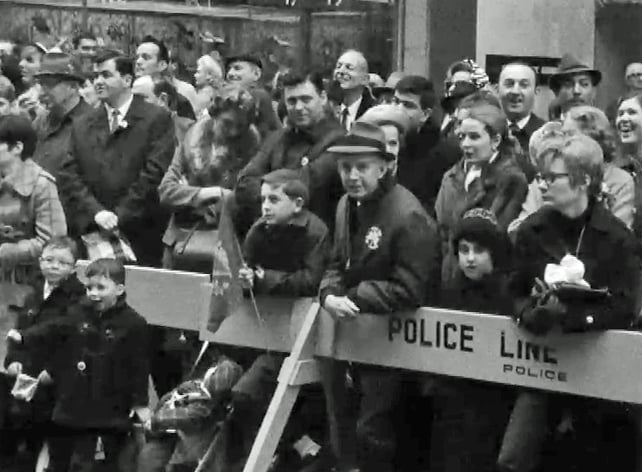 St Patrick's Day in New York (1968)
One of the star attractions at the New York parade was Democratic Party Presidential hopeful Senator Robert Kennedy, adding to this uniquely Irish American occasion. Mr Kennedy took time to meet Archbishop of New York Terence Cook at St Patrick's Cathedral. New York policeman Terry Connaughton originally from Roscommon starts the parade with a blast of his whistle.
Robin O'Sullivan reports from the crowded Cork City parade where one of the stand out floats is from Córas Iompair Éireann (CIE) depicting a Viking ship. The government was represented at the parade by Tánaiste Frank Aiken.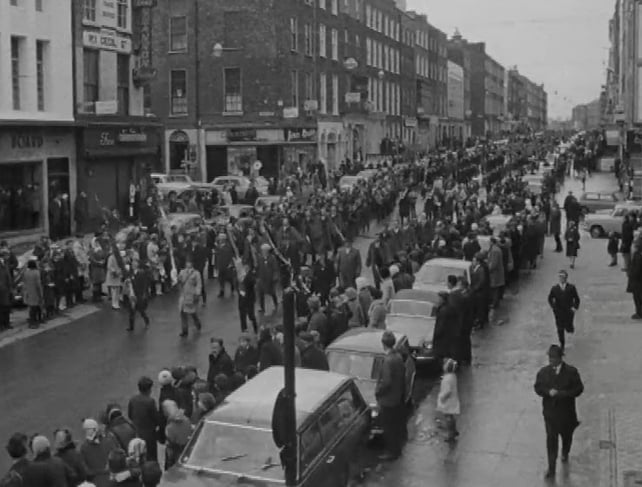 St Patrick's Day in Cork (1968)
Support for Robert Kennedy was also present in the Cork parade with one banner reading
USA Bound to Lift Robert Kennedy to Whitehouse
An RTÉ News report broadcast on 17 March 1968. The reporters are Mike Burns and Robin O'Sullivan.