It might be cheaply produced, not glossy, and have changed little in 100 years but 'Ireland's Own' is one of the country's most popular magazines.
Ireland's Own magazine has been in publication for 100 years and is the country's second best-selling magazine after the RTÉ Guide. Helen MacInerney examines the magazine's enduring appeal.
With a weekly circulation of around fifty thousand, Ireland's Own is read by Irish people all over the world. It is now more popular than it was fifty years ago, despite the fact that its style and content have not changed much.
Richard Hayes Communications Lecturer at Waterford Institute of Technology, argues that the reason for its success is the fact that it looks different to other magazines and has unique content.
It's very cheaply produced. It's not glossy. It's completely different than any other magazine that you're likely to see in the shops.
Ireland's Own began life at the People Newspaper in Wexford Town on 26 November 1902. The magazine is still compiled there today with a core staff of three and a regular group of contributors. Editor Phil Murphy describes how the production of the magazine has changed over the years.
One of the features of Ireland's Own is its unchanging nature.
By the end of World War II, Ireland's Own was selling around 28,000 copies a week and by the 60s and 70s, that figure had risen to 42,000.
Michael Wall, who was editor of the magazine from 1955 to 1971, was involved with organisations like the Gaelic League and the GAA, which influenced the content of the magazine under his leadership.
The magazine's success continues to confound the critics and Nicky Furlong, journalist, and local author, says that this is down to something unique that its readers crave.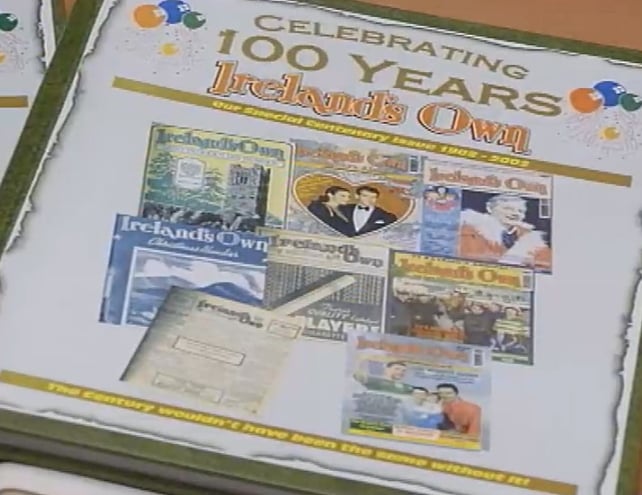 A special centenary edition was produced for the magazine's 100th birthday reviving stories such as 'Kitty The Hare'.
An RTÉ News report broadcast on 26 November 2002. The reporter is Helen MacInerney.