Following the death of Princess Diana books of condolences were signed across Ireland but the town of Castlebar claims a special relationship with the princess and her ancestors.
RTÉ News speaks to one local man who stakes his claim on Diana Spencer being part of the Castlebar family.
Everyone is claiming that she's like a member of the family to them all over the world but really she's family to Castlebar.
The Spencer family links to the Mayo town of Castlebar date back to 1760. Later a judge and great grandfather to Princess Diana lived at the Spencer family ancestral home once located at the edge of the town.
The people of Castlebar have joined in the worldwide tributes to the princess. Jim Fahy gets the reaction of local people to the death of Diana Princess of Wales.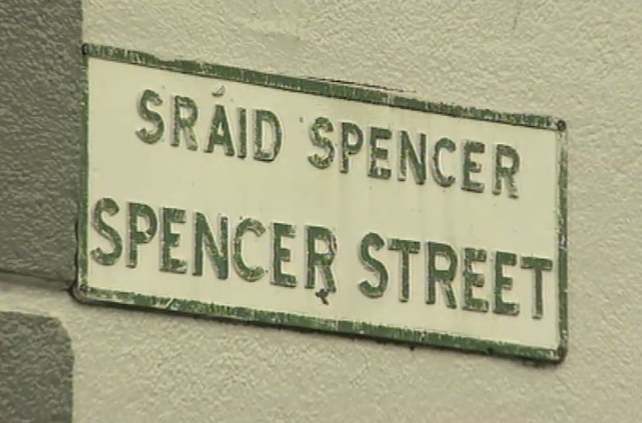 Spencer Street Castlebar
One local woman describes her reaction to hearing the news of Diana's death.
Everybody was shattered just watching the television. Just overcome by it.
Just one year earlier, Princess Diana had surprised the people of Castlebar when she donated a substantial cheque to a local CAT Scan appeal fund. The Mayor of Castlebar talks about the surprise people felt to discover that Diana had identified so readily with a town in the West of Ireland.
From the Castlebar Information Age office, over seven hundred messages of condolence were sent to the Royal Family's website. One such message depicting the close affinity people felt with Diana read,
Deepest sympathy on the loss of a wonderful, radical, whole human being and very special prayers for William, Harry, Charles and Diana's families. May you all get strength through the very painful years and days ahead and freedom from gossip, judgement, and ignorance.
An RTÉ News report broadcast on 4 September 1997. The reporter is Jim Fahy.