Following a Tour de France triumph Stephen Roche heads to his native Dublin where a rapturous welcome greets him.
Before leaving Paris Stephen Roche and his wife Lydia take a look at the international press coverage. This was big news and Ireland was on the front page.
Le plus bel essai irlandais!
Stephen continued to receive attention on board his Aer Lingus flight to Dublin, shaking hands with fans and signing autographs. The reception on board gave him some idea of what was to follow when he arrived back in Dublin, and the pilot on board attempted to give him some idea of what to expect back home.
At Dublin Airport, he was greeted by government ministers, supporters and family members all wanting to share his success and wish him well.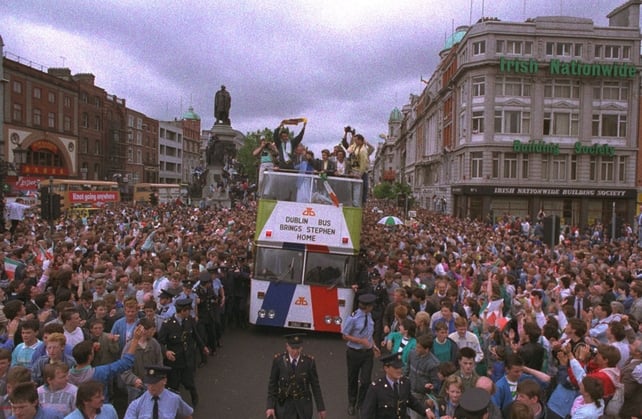 Stephen Roche Welcomed Home To Dublin (1987)
An RTÉ News report broadcast on 27 July 1987. The reporter is Vere Wynn-Jones.