A restaurant in Naas comes up with novel way to overcome strict Good Friday licensing laws by pitching a tent in the car park.
By law, pubs and licensed restaurants, other than those in hotels, are prevented from opening on Good Friday and Christmas Day.
In previous years bar and restaurant owner Tommy Tougher has been in court for breaking the licensing laws on Good Friday so this year he decided to change his approach. He found a way to get around the law by serving food in a specially constructed marquee in the car park of . The tent is erected beside a kitchen window, enabling staff to hand meals through to their customers. Therefore his patrons do not technically set foot on the licensed premises.
Tommy Tougher believes he is providing a much needed service for people who have to work on Good Friday. He points our he is able to serve food and alcohol to customers on a Sunday without censure.
His customers are mainly lorry drivers using the Naas dual carriageway and they are delighted to find a place to eat.
I'm happy enough once I've got my meal anyway, I don't mind where I have it.
However there is no chance of an illicit drink for those dining in Tommy Tougher's tent; the only chance of alcohol comes in the shape of the sherry trifle desert.
An RTÉ News report broadcast on 17 April 1992. The reporter is Mark Little.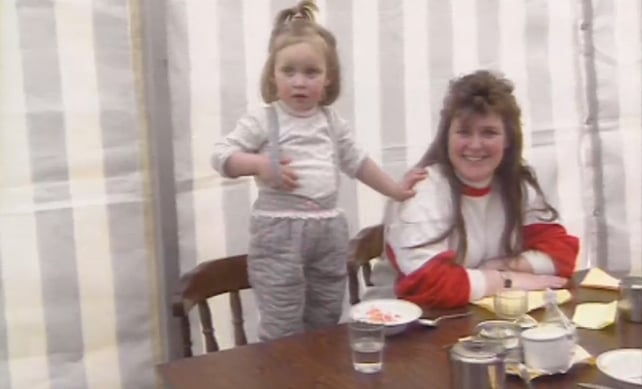 Satisfied customers in Tommy Tougher's marquee in Naas.