Noel Gallagher is a guest on 'The Late Late Show' and talks about his Irish roots, playing Gaelic football at Croke Park and his love for Manchester City.
A returning guest on 'The Late Late Show' Noel Gallagher recalls the first time he appeared on the programme was at the instance of his mother Peggy. As both of his parents are Irish, he had an Irish upbringing but hails from Manchester. His Dad Tommy is from Duleek in County Meath and Peggy is from Charlestown in County Mayo. Childhood summers were spent at his Grandmother's home in Mayo,
Throwing stuff at cows.
Being Irish is just a fact, he is not,
A professional first generation Irish person, there is plenty of them in London.
Noel played Gaelic football as a child and on one occasion he took part in an exhibition match at Croke Park. He will be playing there again when he supports The Red Hot Chili Peppers with his band The High Flying Birds.
Michael Fitzsimons, Eamon Fennell and Declan Lally from the Dublin football team are in the audience and Declan Lally presents Noel with an autographed Dublin jersey. The blue jersey is the same colour as those worn by Noel's beloved football team Manchester City.
One of the best days of his life was when his album 'Noel Gallagher's High Flying Birds' got to number one and Manchester City beat Manchester United 6-1.
I've never been so underwhelmed that a record got to number one.
This episode of 'The Late Late Show' was broadcast on 17 February 2012. The presenter is Ryan Tubridy.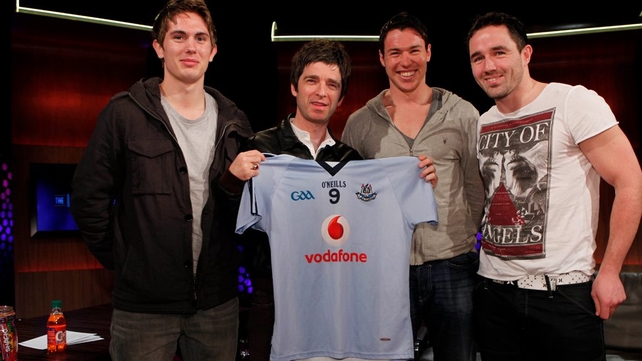 Michael Fitzsimons, Noel Gallagher, Eamon Fennell and Declan Lally.