On 16 August 1986 a special pilgrimage to the 'Reek' was organised to raise funds for the Rehabilitation Institute.
Pilgrims arrived from all over the country by special peace train and coach to Westport, before making their onward journey to Murrisk. From there they make their ascent up Croagh Patrick, the third highest mountain in County Mayo.
3,000 pilgrims participated in a "hands link" from the base to the summit creating a three mile human chain in bad weather conditions.
The special pilgrimage was organised by the Rehabilitation Institute and Co-operation North, the 32-county organisation dedicated to creating links between people North and South, to mark 1986 as International Peace Year.
Croagh Patrick is traditionally climbed by pilgrims on 'Reek Sunday' every year, the last Sunday of July. Rehab aimed to raise in excess of £100,000 to fund training programmes for the disabled.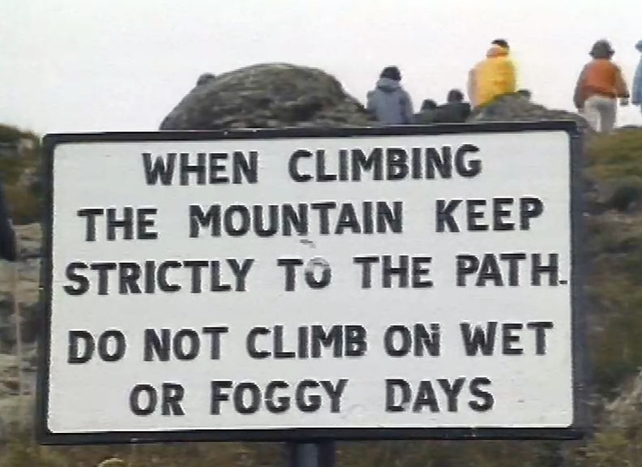 Croagh Patrick (1986)
Nobel Peace Prize winner, Mr. Sean MacBride, whose father was born in Westport, planted a 'Tree of Peace' at the foot of Croagh Patrick to mark the event. A time capsule with the names of all the participants was buried at the starting point of the pilgrimage.
Personalities from both sides of the border joined in the pilgrimage including Nobel Peace Prize Winner Mr. Sean McBride, RTÉ presenter Ciana Campbell, and Father Michael Cleary.

An RTÉ News report broadcast on 18 August 1986.