This week's 'The End' gets off on a bad tone.
A not so festive Sean Moncrieff appears uncharacteristically glum this week as he introduces this Christmas edition of 'The End' describing this weeks programme as
Two hours of utter crap
The programme is interrupted with an apology for the poor tone of the show. After showing a brief clip of some Irish dancers, the cameras return to studio for
A new happy smiley wiley Seanie wannie
However, Sean's tone control can't be fiddled with and things just go from bad to worse.
This episode of 'The End' was broadcast on Network 2 on 16 December 1995.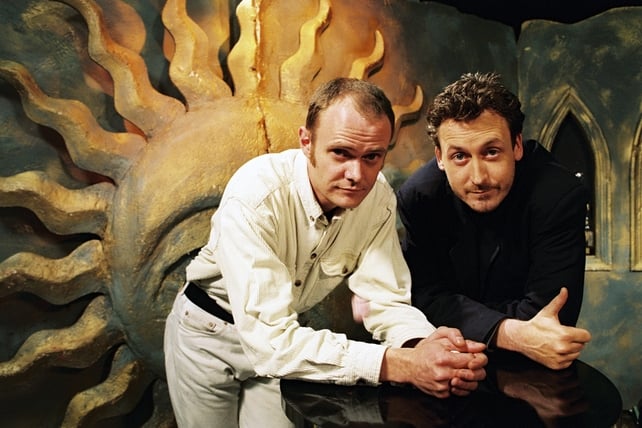 Sean Moncrieff and Barry Murphy (1995)
'The End' was broadcast on Friday and Saturday nights with Barry Murphy presenting on Fridays and Sean Moncrieff on Saturdays. The programme experimented with the concept of developing continuity using comedy, sketches, and interviews.