The 9th Annual Golden Harp TV Festival in 1975.
The 1975 Golden Harp TV Festival was viewed as a magnificent advertising opportunity for RTÉ internationally. Nuala Ní Dhomhnaill reports from outside the Royal Marine Hotel in Dun Laoghaire.
24 countries from around the globe showed their entries during the week-long festival. The Golden Harp Award went to the programme or film which
captures the flavour of a particular cultural heritage.
Each organisation taking part was represented on the jury. The awards were presented by the President of Ireland Cearbhall Ó Dálaigh and the winning entry was shown on RTÉ.
The aim of the Golden Harp Festival was to promote international exchanges of folk music and folklore programmes and to encourage interest in traditional cultures among the nations represented. It was organised under the auspices of the European Broadcasting Union.
Dr Clement Semmler, Deputy General Manager of the Australian Broadcasting Commission, was the President of the 1975 festival and jury. Clement described the festival as
one of the major festivals in television in the world today.
Clement recalled attending the first Golden Harp Festival in 1966 and commented on how the quality of the programmes had improved since.
An RTÉ News report broadcast on 18 May 1975.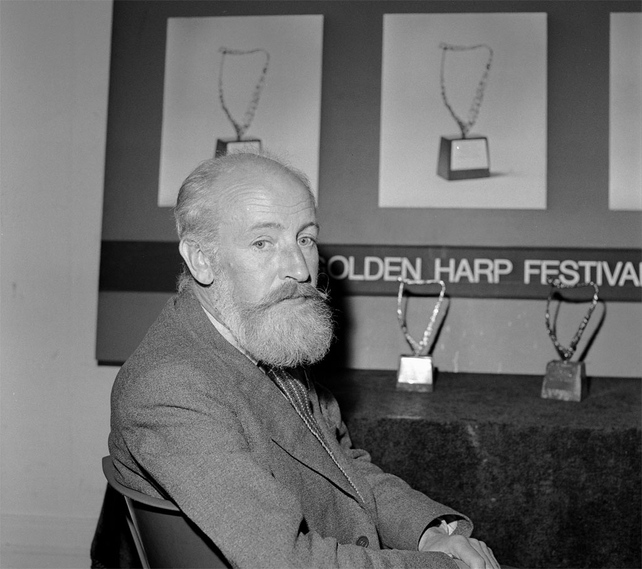 Irish Sculptor and Designer of the Golden Harp Award, Oisin Kelly (1966)