The role of The National Trust in Northern Ireland in preserving the Giant's Causeway.
The National Trust in Northern Ireland works at preserving buildings and beauty spots like The Giant's Causeway in Antrim.
One of the natural wonders of the world, at first sight it's rather disappointing... but close up the geological formations are impressive. Thousands of columns of basalt forced out of the earth's crust by volcanic fires millions of years ago.
The National Trust is now responsible for looking after this area and in future everything here must blend with the cliffs and the causeway of the local landscape. The National Trust will endeavour to remove the rusting war mine and trinket shops, to preserve the Antrim cliffs from man's destruction.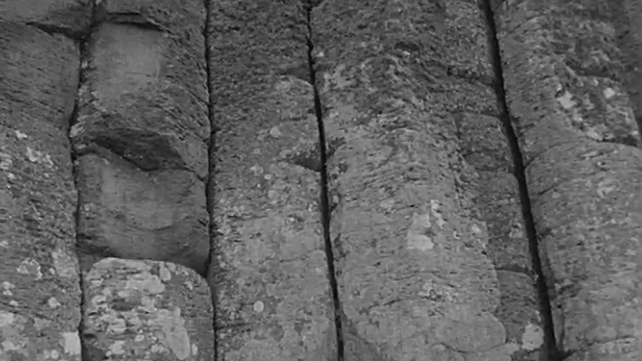 Giant's Causeway (1965)
The National Trust had acquired the Giant's Causeway in 1961 with the support of the Ulster Land Fund along with a gift of land from Sir Anthony Macnaghten. In the previous 70 years a private company had enclosed The Giant's Causeway columns with railings and a turnstile. The railings were removed and the causeway was opened up to the public in 1962.
'Discovery' was a documentary series broadcast on RTE between 1964 and 1967. First aired on Tuesday, 14 January, 1964 'Discovery' touched on many aspects of Irish life with an occasional spotlight on events of particular interest.
This episode of Discovery was broadcast on 14 May 1965. The reporter is Brian Cleeve.