Representative groups from different organisations gather to show their opposition to the laws on criminal responsibility and the treatment of children.
Protests took place outside Dublin Castle and the Children's Court for an immediate increase in the age of criminal responsibility. 'Seven Days' spoke to some of the protesters and with Minister for Justice Patrick Cooney.
We should not have young children brought into court as criminals.
The protest was organised by a group of social workers from north Dublin but included tenant representatives, teachers and a group from the ICA. All of these groups were looking for new legislation governing children in trouble, and a change to the bureaucratic process surrounding the treatment of children under the law.
Under the law children were held criminally responsible from the age of 7.
I don't believe that anybody of 7 years of age should be called a criminal.
A Seven Days report broadcast on 18 April 1975.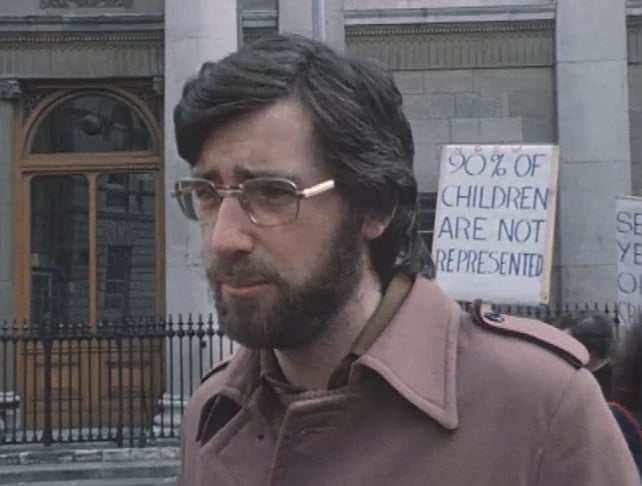 Protester at Dublin Castle (1975)
'Seven Days' (it later became '7 Days') began broadcasting on 26 September 1966 and was RTÉ television's flagship current affairs programme for ten years. The programme's young production team was made up of producer Lelia Doolan, directors Eoghan Harris and Dick Hill, and reporters John O'Donoghue, Brian Cleeve and Brian Farrell.
Muiris Mac Conghail became producer of '7 Days' in 1967 when the programme was merged with another current affairs programme, 'Division'.