40 villagers from Abbeydorney in County Kerry stage a picket outside the tribunal of inquiry into the Kerry babies case in Tralee.
This was the first time public opinion had been expressed. Neighbours were unhappy at the line of questioning of Joanne Hayes and wanted to show their support.
Hayes had been arrested when the body of a baby boy was found stabbed to death on a beach in Cahirciveen, County Kerry in 1984 because she was known to have been pregnant. She confessed to the murder, but later denied it, saying she and her family had been intimidated by Gardaí. She had given birth to a a baby boy at home on the family farm in Abbeydorney, but the baby had died. Its body was found on the property and it had the same blood type as Hayes and its father, Jeremiah Locke. The Cahirciveen baby did not, but Gardaí came up with a theory that she had been pregnant by two different men and gave birth to both babies.
The murder charge was dropped later that year and a tribunal was set up to investigate Gardaí handling of the case. The picket came the day after the tribunal had interrogated Joanne Hayes for five days, during which she collapsed several times and had to be sedated.
Tom MacSweeney reports for RTÉ News on 23 January 1985.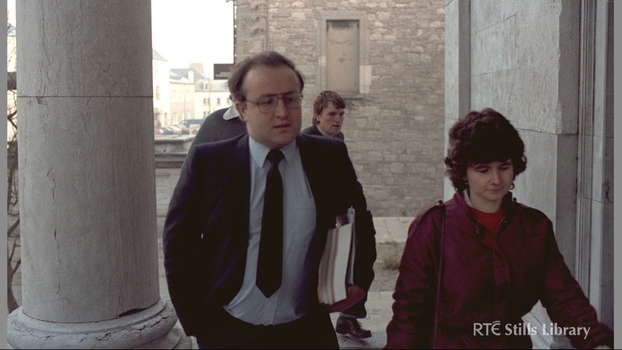 Joanne Hayes at Tralee Courthouse, County Kerry with solicitor Patrick Mann on 7 January 1985.