The winner of the Grand National, Royal Tan is paraded in O'Connell Street after returning to Dublin on 30 March 1954.
The film shows Royal Tan being led from the 'Leinster' ship at the North Wall. Royal Tan, accompanied by stable boys Christy Tuohy and Dave Manning, is greeted by large crowds who have come out to celebrate this racing victory. The Lord Mayor Bernard Butler is also there to greet Royal Tan and his owner Joe Griffin.
Among the press photographers and newsreel cameramen was amateur film-maker Norman Hodgson who shot this footage.
The footage presented here is taken from the Norman Hodgson (1905-74) Collection, which was donated to RTÉ Archives by Norman's daughters Helen Hodgson and Rosalie Pickering.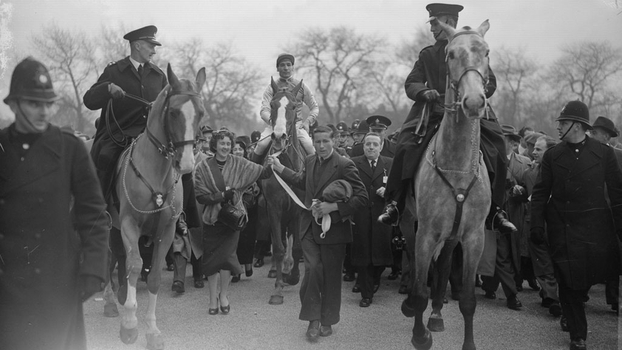 Royal Tan escorted by mounted police, ridden by Brian Marshall, being led in after winning the Grand National at Aintree, Liverpool.