William F. Buckley Jr, American conservative columnist and broadcaster invites John Hume to talk about his hopes for the future of Northern Ireland.
A panel of three Irish journalists Vincent Browne, Nell McCafferty and Kevin Myers join the discussion to probe the views of both host and guest.
In this extract from the programme 'Firing Line' Vincent Browne quizzes John Hume about the future of Ireland, north and south, in the context of the Sunningdale agreement.
'Firing Line' was an American interview-discussion series presided over by publicist-writer-broadcaster, William F. Buckley, Junior. The series was broadcast weekly in America to over 240 cities with occasional episodes recorded abroad.
In February 1974, Buckley came to Ireland and recorded two 'Firing Line' programmes which were broadcast on both sides of the Atlantic. This episode of 'Firing Line' was broadcast on 26 March 1974.
In the first 'Firing Line' programme, Buckley spoke to Senator Noel Browne and they debated their views on the spiritual and temporal role of the Church and its relationship with the state. In this the second programme, the guest is John Hume, Minister of Commerce in the Northern Ireland Executive. The agenda is Ireland's future in the context of the Sunningdale agreement.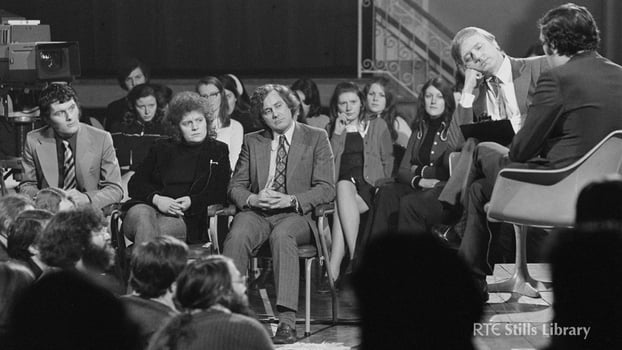 Kevin Myers, Nell McCafferty and Vincent Browne, presenter William F. Buckley, and guest John Hume.