On 15 March 1999 forty-year-old solicitor and political activist Rosemary Nelson was killed by a car bomb near her home in Lurgan, Co. Armagh.
Michael O'Kane reports for RTÉ News that Rosemary Nelson was cut from the wreckage, rushed to Craigavon hospital but died shortly after. A group calling themselves the Loyalist Red Hand Defenders claimed responsibility for the attack in a call to the BBC in Belfast accompanied by a recognised code word.
Throughout her career, Rosemary Nelson had represented many high profile nationalists and the residents of the Garvaghy Road. A potential target for paramilitary unionists, Nelson had received a number of death threats throughout her career.
Nationalist Francie Molloy points the finger of blame clearly at unionists. In response to her death, a protest was held by nationalists outside Lurgan police station.
The murder of Rosemary Nelson has led to further tension in Northern Ireland striking the heart of the nationalist community.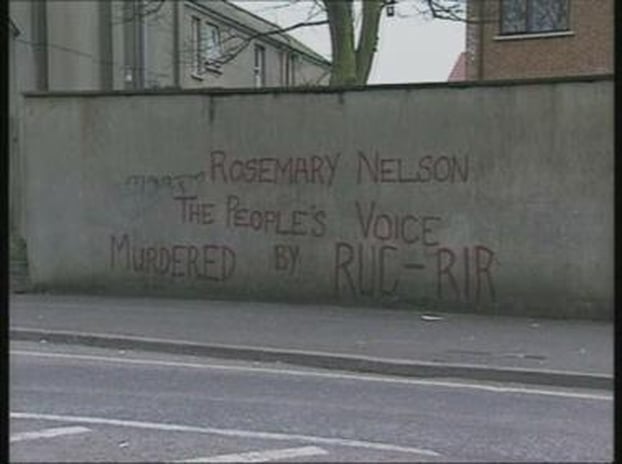 Rosemary Nelson Graffiti