One of Ireland's first television chefs Monica Sheridan makes a memorable comeback on 'Evening Extra' with advice on how to stuff the turkey.
Monica Sheridan presented the cookery programmes 'Monica Sheridan's Kitchen' and 'Home for Tea' on Telefís Éireann during the 1960s. She also had a weekly cookery slot on 'The '70s Scene', a television magazine programme for women.
In this appearance on 'Evening Extra' she shows presenter Siobhán Cleary how to make stuffing using a secret ingredient but Monica is less than impressed with the bird she has been given for the demonstration.
This is the lousiest turkey I ever saw. Do you know what colour it is? Purple...It is an antique turkey I think. Looks remarkably ugly
Monica also talks about her days as a chef on Telefís Éireann and how she was fired for licking her fingers. Presenter Siobhán Cleary just about holds it together in this memorable interview.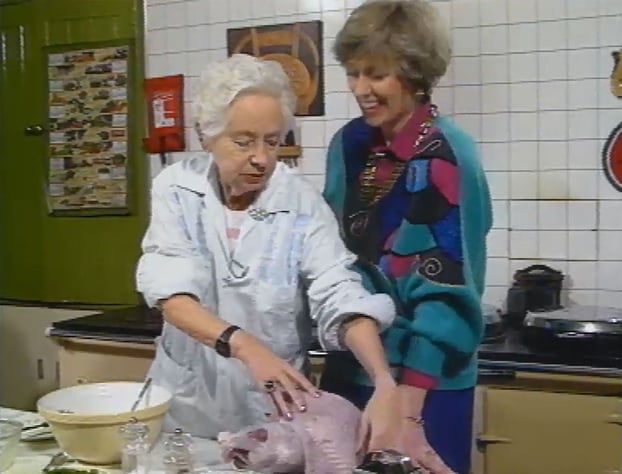 Monica Sheridan and Siobhán Cleary (1987)
This edition of 'Evening Extra' was broadcast on 18 December 1987. The presenter is Siobhán Cleary.