On 13 November, 1993 RTÉ Radio One producer and presenter Tim Lehane, won a Jacob's Award for his show 'Monday 702' on RTÉ Radio One.
The Jacob's Awards was an annual celebration, instigated and hosted by Irish Biscuits (W. & R. Jacob & Co. Ltd.), honouring the best in both radio and television. The awards began in 1962 and coincided with the launch of television in Ireland. 1993 was to be the final year of the awards.
This clip from the awards ceremony shows Tim Lehane at work in studio preparing for his show, and then introducing an episode 'Monday 702'.
'Monday 702' was honoured for its persistently inventive use of archive and interview material. Host of the Jacob's Awards, Myles Dungan, describes 'Monday 702' as a series that's never dull and more often than not intriguing. He goes on to describe Tim Lehane as an "archive miner extraordinaire".
Tim is presented the Jacob's award by the then Minister for Arts, Culture and the Gaeltacht Michael D. Higgins. In his acceptance speech Tim acknowledges the efforts of all those that work on the programme, and describes radio as "a fascinating medium with wonderful possibilities".
Tim Lehane worked as an RTÉ radio producer from 1974 to 2002.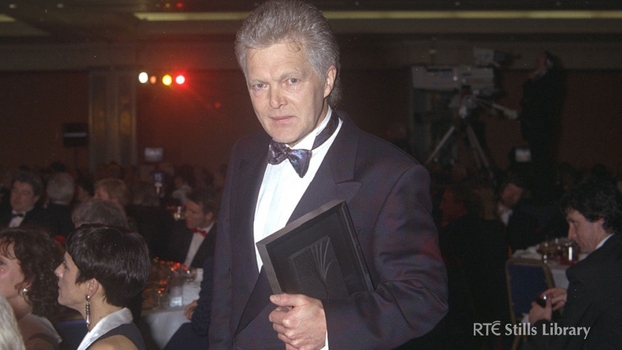 Lehane at the Jacob's Award in the Burlington Hotel, Dublin, 1993.
Other recipients of Jacob's Awards in 1993 for their work in radio included Des Cahill, John Quinn, Doireann Ní Bhriain, Tomás Ó Ceallaigh and Martin Maguire.