IRA members escape from Mountjoy Prison using a helicopter.
Earlier that day another IRA member had hijacked a helicopter and forced the pilot to land at the D Wing of Mountjoy Prison where they picked up the three IRA prisoners J.B. O'Hagan, Seamus Twomey and Kevin Mallon.
This RTÉ News report shows the Alouette 2 helicopter which was used in the escape. The helicopter had been hired by an American two days previously for what was believed to be a photographic session in Stradbally, Co. Laois. Having landed at Stradbally, the helicopter was immediately surrounded by a number of armed men. The American, Mr. Leonard, was asked to get out of the helicopter and one of the armed men took his place. The pilot was then forced to fly to Mountjoy to pick the three men and then on to Baldoyle racecourse, where the three prisoners and the fourth man got into a car and headed in the direction of Howth, Co. Dublin.
The escape made news headlines around the world and raised questions about the competency of the Fianna Fáil government when it came to security. As a result all IRA prisoners were moved to Portlaoise Prison. All three escapees were recaptured separately in the years that followed and were returned to prison.
An RTÉ News report broadcast on 31 October 1973. The reporter is Tom McCaughren.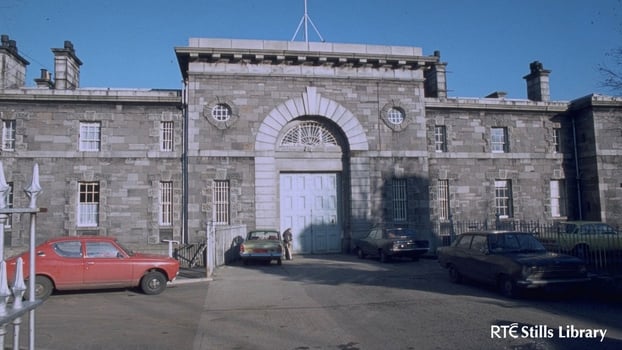 Mountjoy Prison (1975)