Street Performance on Grafton Street 1974
As the Street Performance World Championships take place in Dublin this weekend, a look back to 1974 and some buskers on the corner of Grafton Street and Stephen's Green, Dublin.
After performing 'Hesitation Blues', buskers Seamus MacArdghail, Ronnie Carlyon and Max Rinder, discuss the different motivations for busking. They also talk about the problems they encounter with the police while busking in Dublin. Ireland has one of the strictest laws in Europe with regard to street entertainment and the police are mainly concerned with the obstruction caused when crowds are gathered on the shopping streets. For these three buskers there is a big difference between playing music in a pub and busking on the streets. They feel that street music offers real value to the city of Dublin.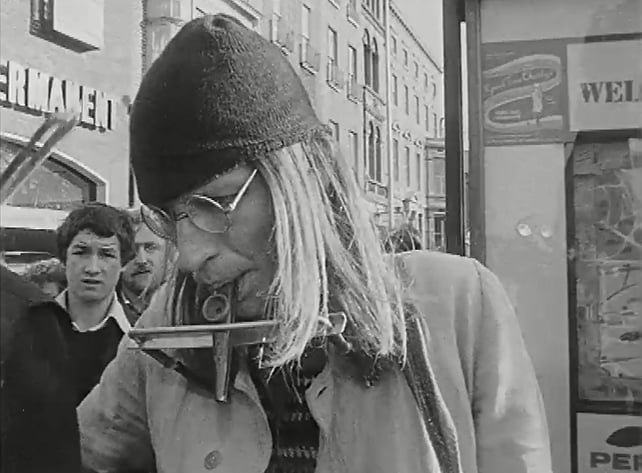 Busker playing the kazoo at the corner of Grafton Street and Stephen's Green in 1974.
This report for 'Tangents' was broadcast on 6 February 1974.
Street Performance World Championships (Dublin)
When: Fri, Jul 12 2013 — Sun, Jul 14 2013
Location: Merrion Square, Dublin
Street Performance World Championships (Cork)
When: Sat, Jul 20 2013 — Sun, Jul 21 2013
Location: Fitzgerald Park, Cork City

For more information visit www.spwc.ie