After tea with his relations at the ancestral farm in Dunganstown, President Kennedy went to Wexford town.
President Kennedy visits the statue of Commodore John Barry in Crescent Quay, where members of the Irish navy form a guard of honour and present arms. Wexford-born Barry commanded the American navy and Kennedy himself is a former naval officer.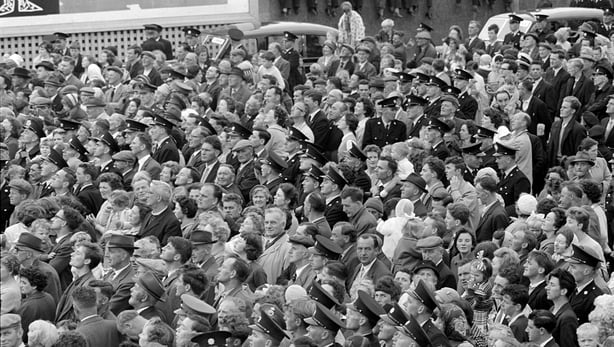 Crowds await arrival of President Kennedy in Wexford town on 27 June 1963. Photo by Edward McEvoy.
Kennedy lays a wreath at the statue, accompanied by his naval aide, Tazewell Shepard, the Mayor of Wexford, Thomas Byrne, the Minister of External Affairs, Frank Aiken and the US Ambassador, Matthew McCloskey. The group then goes to Redmond Place, where Byrne gives Kennedy the freedom of the borough. President Kennedy is welcomed by a huge crowd, many of them waving American flags.
An RTÉ News report was broadcast on 27 June 1963.