The Special Olympics opened in Ireland on 21 June 2003, the first time it was held outside the United States. It was founded by Eunice Kennedy Shriver and the first summer games were held in Chicago in 1968.
RTÉ interviewed Eunice Kennedy Shriver about her work with the disabled when she came to Ireland in 1963 with her brother, President John F. Kennedy. She was on a visit to St Augustine's School in Blackrock, Dublin. The order had been nominated for an award from the Kennedy Foundation the previous year and Shriver had been very impressed with their work.
In this clip, she talks to Anne Binchy about the foundation and her belief that the disabled can do extremely well in sport and dance if given the opportunity. She says "Erin go bragh".
This RTÉ News report was broadcast on 28 June 1963. The reporter is Ann Binchy.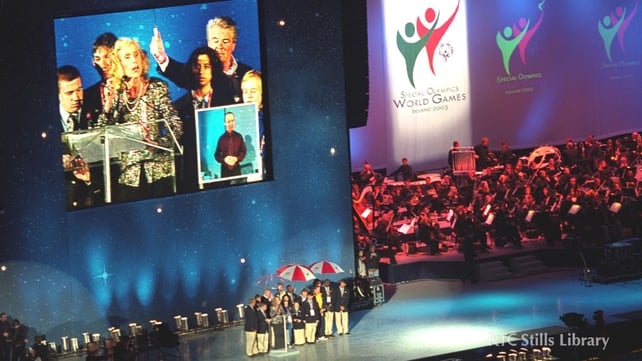 Eunice Kennedy Shriver at the Special Olympics opening ceremony in Croke Park in 2003.