US President Barack Obama has called on Hamas to show they were serious about wanting a ceasefire and urged them to release an Israeli soldier reported captured earlier today.
"I think it's going to be very hard to put a ceasefire back together again if Israelis and the international community can't feel confident that Hamas can follow through on a ceasefire commitment," he said.
"If they are serious about trying to resolve this situation, that soldier needs to be unconditionally released as soon as possible," he told a news conference.
A 72-hour ceasefire in the Israel-Hamas conflict collapsed a few hours after it came into effect with Hamas being blamed for breaching the truce.
At least 60 people were killed and 300 wounded in Israeli shelling near the southern Gaza town of Rafah.
The Israeli military said that 90 minutes into the truce, militants attacked soldiers searching for tunnels in Gaza used to infiltrate fighters into Israel.
Two soldiers were killed and another was apparently captured.
There was no immediate word from militant groups on whether any were holding the soldier, who has been named as 23-year-old Second-Lieutenant Hadar Goldin.
Britain's Foreign Office said it was urgently looking into reports that the missing soldier also held British nationality.
A Hamas spokesman in Gaza said Israel was trying to mislead the world and "cover up its Rafah massacre".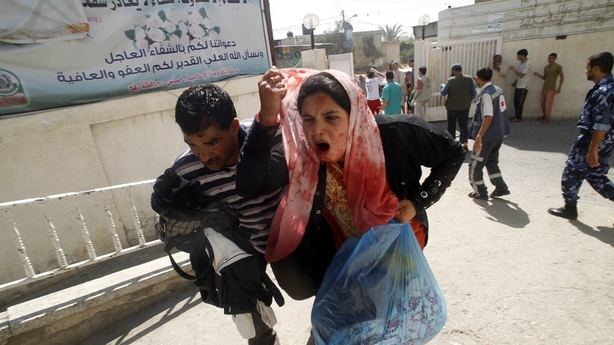 The planned 72-hour ceasefire was an attempt to end more than three weeks of fighting between Israel and Hamas.
The US also blamed Hamas for the breakdown of the ceasefire and accused it of launching a "barbaric" attack to capture an Israeli soldier.
"This is an outrageous action and we look to the rest of the world to join us in condemning it," White House Deputy National Security Adviser Tony Blinken told MSNBC television.
UN Secretary-General Ban Ki-moon condemned the reported violation of the Gaza ceasefire by Hamas saying he was "shocked and profoundly disappointed".
He called for the immediate and unconditional release of the captured soldier and said he was "deeply concerned" by the resumption of Israeli attacks on Gaza.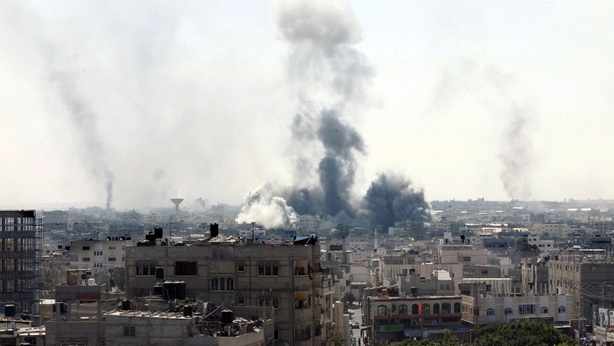 Fearing an escalation of violence in Gaza, US Secretary of State John Kerry called on Turkey and Qatar to use their influence to secure the release of the Israeli soldier.
We have urged them, implored them to use their influence to do whatever they can to get that soldier returned," a senior State Department official told reporters travelling with Mr Kerry.
"Absent that, the risk of this continuing to escalate, leading to further loss of life is very high."
Israeli Prime Minister Benjamin Netanyahu called a special meeting of his security cabinet for later today.
A statement from his office said he spoke by telephone with Mr Kerry and told him "the Palestinians had blatantly breached the humanitarian ceasefire and attacked our soldiers".
"Hamas and the other terrorist organisations in the Gaza Strip will bear the consequences of their actions and Israel will take all necessary steps against those who call for its annihilation and terrorise its citizens," the statement quoted Mr Netanyahu as saying.
Elsewhere, a Palestinian man was shot dead by Israeli forces during clashes in the West Bank.
A Red Crescent spokesperson said 39 Palestinians were wounded by rubber bullets and live ammunition during the clashes.
In Pictures: Gaza Ceasefire Collapses
Timeline: Operation Protective Edge
The Gaza truce was announced in a joint statement released by Mr Kerry and Mr Ban.
Gaza officials say more than 1,500 Palestinians, mostly civilians, have been killed and around 7,000 wounded.
Sixty-three Israeli soldiers have been killed and more than 400 hurt. Three civilians have been killed by Palestinian rockets in Israel.
Hours before the ceasefire was announced, Mr Netanyahu said he would not accept any truce that stopped Israel from completing the destruction of militants' infiltration tunnels.
Accomplishing that mission - the military said yesterday the tunnels hunt could be wrapped up in a few days - could open the way for Israel to declare it has achieved the main goal of the ground assault and withdraw its soldiers from Gaza.
The ceasefire had prompted Palestinian families to trek back to battle-devastated neighbourhoods where rows of homes have been reduced to rubble.
It was to be followed by Israeli-Palestinian negotiations in Cairo on a longer-term solution.

Egyptian officials said the invitation to negotiators still stood, but some Palestinian representatives had asked for a postponement until tomorrow or Sunday to allow a new truce to b ereached.
A senior State Department official travelling with Mr Kerry in India said US Deputy Secretary of State Bill Burns would arrive in Cairo tomorrow and that Frank Lowenstein, the acting US envoy for Middle East peace, and another US official, Jonathan Schwartz, would be there on today.
The Palestinian delegation will be comprised of Hamas, Western-backed Fatah, the Islamic Jihad militant group and a number of smaller factions, Palestinian officials said.

But US officials said Israel and the United States would not sit across the table from Hamas, which the two countries, along with the European Union, consider a terrorist group.

Egypt's Foreign Ministry said it "stresses the importance [that] the two sides respect their obligations resulting from their announcement of ceasefire so that negotiation can be held in suitable conditions and achieve the desired results".
Just over an hour before today's ceasefire was due to take effect, militants fired 11 rockets into Israel.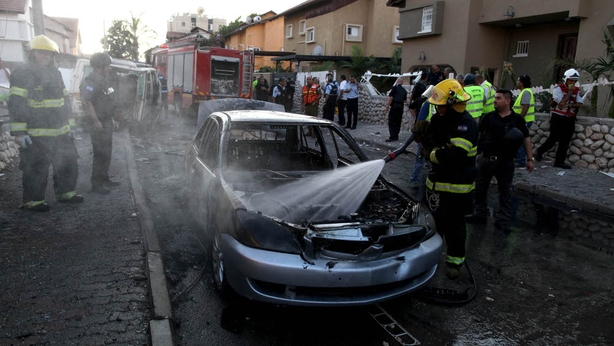 One rocket was intercepted by the Iron Dome defence system over the centre of the country, a military spokeswoman said.
Previous international attempts to broker a humanitarian truce were less successful, securing shorter periods of calm, with some collapsing immediately after being announced.
UN political affairs chief Jeffrey Feltman said it took a massive diplomatic push to achieve the ceasefire.
"The Egyptians played an important role, the Qataris played an essential role in helping bring the parties on board, the Turks were in touch with all sides. This was a collective effort," Mr Feltman said.