Meat meant for dogs ends up in Northern Ireland human food chain
Thursday 12 December 2013 16.35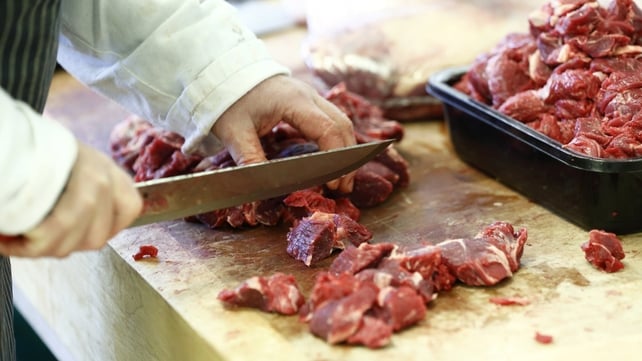 Authorities in Northern Ireland have discovered that meat meant for dogs may have ended up in the human food chain.
This was part of an industrial-scale fraud which was not followed up, a report has found.
It was discovered in Northern Ireland in 2005 but the many leads into crime networks were not pursued, the Elliott review said.
That type of meat may contain hides, hair, feathers and bones.
Potential profit on the recovery from a cold store was up to £3m (€3.5m).
The report said: "It was strongly suspected that material found was part of an ongoing illegal business but for lack of the necessary investigative resource this was not pursued."
The material included animal parts which have been passed as fit for human consumption but are not intended for consumption, either because they are parts of animals which are not usually eaten or for commercial reasons.
The case study was included in a report published by the Department for Environment, Food and Rural Affairs and written by Queen's University Belfast academic Professor Chris Elliott.
Irregularities were noticed when a shipping company informed Northern Ireland's food port inspectors of a suspicious container which had arrived from Asia.
This prompted a follow-up operation at a cold store and police obtained a warrant.
The presence of an industrial shrink wrapping machine raised concern.
"It led on to the discovery of other packing and labelling equipment and materials including a copious supply of forged veterinary health marks purporting to originate from a variety of meat plants across the EU," the document said.
"It became evident that the primary business of the cold store was repacking and relabelling as fit for human consumption Category 3 animal by products meat."
An advertisement encouraged others in the industry to cut their losses by sending out-of-date stock to the illegal relabelling service.
"Evidence was found to demonstrate extensive criminal planning," the report added.
"At that time (or currently) there was no capacity for the major criminal investigation that the evidence and the criminal profits justified."
The meat was worth about £1 a kilo as pet food but if sold as mince for human consumption it would be worth £3.50 a kilo.
There were a large quantity of beef fillets and Professor Elliott said if that was combined with the mince the average price would have been at least £4 a kilo, making the criminal profit on the meat in the store worth between £2.5m and £3m.
In an interim report, Chris Elliott, director of the Institute for Global Food Security at Queen's University Belfast, said the UK food sector was at risk of being infiltrated by criminals looking for huge profits.
He said the £188bn (€224bn) food and drinks industry was a "soft touch for criminals at the moment".
He said there is a worrying lack of knowledge about the extent of criminal activity in the industry and little chance of offenders being detected.
Professor Elliott called for the establishment of a food crime unit to prevent fraud through increased intelligence-gathering, testing, and coordinating with other government departments.
"I believe criminal networks have begun to see the potential for huge profits and low risks in this area. The food industry and thus consumers are currently vulnerable," Mr Elliott said in his report.
Professor Elliott was commissioned by the British government in June to look at any weaknesses in the food supply chain in Britain.
Last January horsemeat was sold as beef in frozen burgers and lasagnes in British and Irish supermarkets, including those run by market leader Tesco.
The scandal raised questions about the safety of the European food supply.
Professor Elliott outlined a series of ways that organised criminals can profit from the food chain due to inadequate enforcement of regulations.
Examples included substituting fish with a cheaper species and adulterating products with other species.
Mr Elliott's final report with more detailed recommendations will be published next year.