Over 1000 protest in Japan over state's secrets act
Friday 06 December 2013 22.48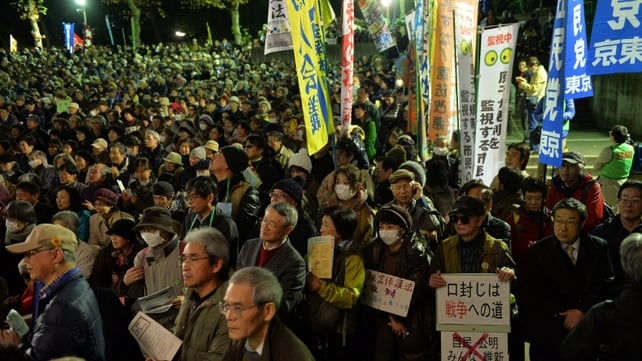 Over 1000 protesters gathered outside Japan's National Diet Building to demonstrate against the state secrets act, a law about to pass that would expand the definition of state secrets and raise penalties for leaks.
Protests began in the early afternoon and continued to gather strength until nightfall.
Demonstrators also gathered several kilometers away in Hibiya park, a noted Tokyo location for citizens to speak out and assemble.
The upper house of the Parliament held a delayed plenary session where a debate and a vote for state secrets bill will be held.
The Japanese state secrets bill aiming to toughen penalties for leaks came a step closer to becoming law yesterday.
Ruling parties forced it through a parliamentary panel amid protests it will muzzle the media and help cover up official misdeeds.
Under the law, public servants or others cleared for access to state secrets could be jailed up to 10 years for leaks.
Journalists and others in the private sector convicted of encouraging such leaks could get up to five years if they use grossly inappropriate means to solicit the information.
Top officials in all ministries will be able to designate special state secrets in four categories - defence, diplomacy, counter-terrorism and counter-espionage - that can be kept secret for up to 60 years and in some cases longer.
Japanese prime minister Abe wants to pass the bill before parliament's session ended today.
Japanese media is sceptical whether it will come to a vote before then with the opposition party using as many delaying tactics as it can.
It has already passed the lower chamber and is also likely to pass the upper house if they do vote as the ruling coalition has a majority in both houses.