Cork and Kerry meet in Sunday's Munster Football Final, their 29th meeting since the qualifiers were introduced in 2001. Kerry's 16 wins puts them in the ascendancy and they have never tasted defeat when the sides have clashed in Croke Park. Declan Whooley is looking back on their meetings on Jones' Road this week, speaking to some of the players involved in the seven capital clashes.Today it is five-time All-Ireland winner Tomás Ó Sé and in particular, his memories of the 2005 All-Ireland semi-final.
"He had a real hatred for Cork. There was no in between or grey area – Cork had to be beaten, end of story, but I never hated them."
Tomás Ó Sé was well accustomed to the annual Cork/Kerry battles in his household growing up, but his first introduction from a playing perspective was under the watchful eye of a man who lived and breathed the rivalry. And defeat was simply not an option.
The teenager from Ard and Bhóthair was called up to the Kerry minors in 1995, with Charlie Nelligan tasked with landing silverware for the Kingdom teenagers.
Uncle Paidí's influence meant that Cork was the gauge every year and the team you always wanted to beat. With Nelligan, it was another level of intensity.
"Charlie Nelligan...Christ. He came in [in 1994 and led the minors to an All-Ireland title] and he had a real hatred for Cork. There was no in between or grey area – Cork had to be beaten, end of story.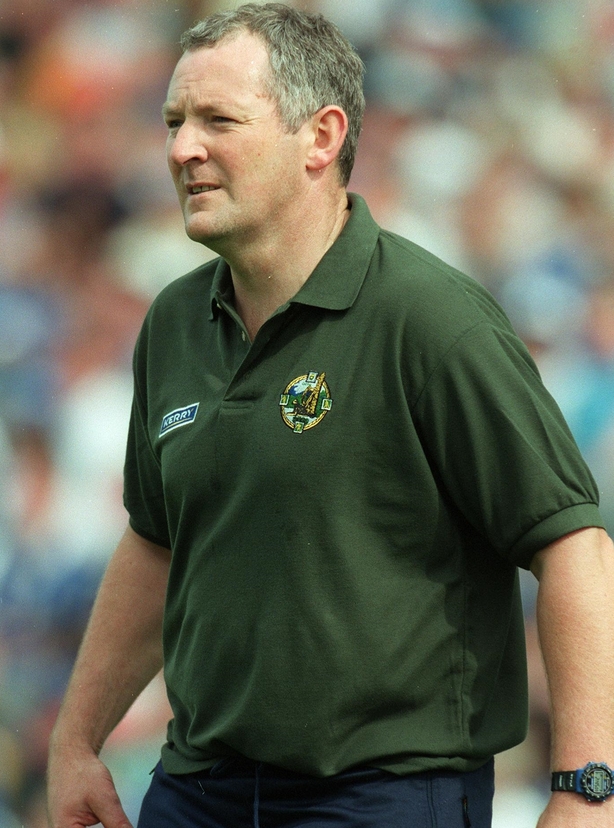 "I never hated them. I always wanted to beat them because there was such a tradition and history there, but Nelligan wanted to beat them all the time.
"I suppose he had been involved towards the end of his career where Cork were coming out on top, when Billy Morgan was in charge."
Cork emerged victorious in a replay in Páirc Uí Chaoimh, but Ó Sé reflects on the defeat as the high tide mark for the Rebels.
"It was a turning point and it was the last time Cork had a grip on Kerry really.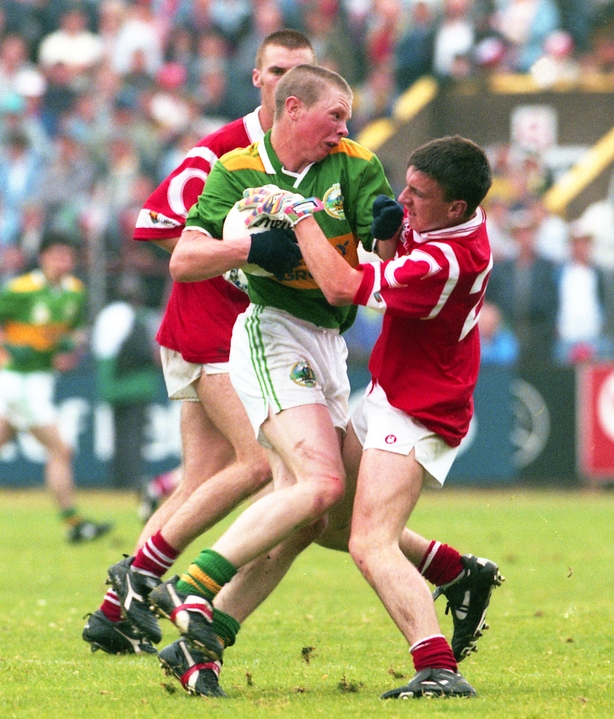 "In 1996 Paidí came in at senior level and they won down in Páirc Uí Chaoimh for the first time in a good few years."
Indeed it was the first time Cork tasted defeat in a Munster final in a decade.
****
In 1997  the Kingdom would end their mini-famine and land Sam Maguire, with Ó Sé nestled among the substitutes.
That same year he won the first of three Munster U21 titles on the trot. Dominance was achieved against their neighbours, though a return of just one All-Ireland title at that grade is somewhat of a regret.
Victory in 1998 over Laois avenged the minor defeat to the same opposition two years previous, but the following season Westmeath upset the odds.
Four All-Ireland final appearances in five years as a budding Kerry footballer was an impressive start and a taste of what was to follow at senior level.
A baptism of fire against Cork, and in particular Aidan Dorgan, in 1998 was a rude introduction to senior Championship football, but the marauding wing-back soon settled into his role and the responsibility of the famed number five jersey worn with such distinction by his uncle.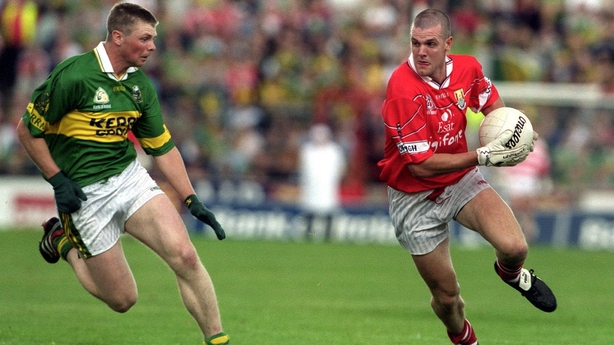 A first All-Ireland medal and All Star award came in 2004 and around this period he says he was playing some of his finest football in a green and gold jersey.
The reigning Munster and All-Ireland champions arrived on Leeside for the 2005 provincial final, fully confident of extending the bragging rights. In eight outings against the Rebels, Ó Sé had tasted defeat just twice.
And playing on Cork's patch was always a motivation for the An Ghaeltacht player.
"I know there's a new Páirc Uí Chaoimh, but I loved the atmosphere there. You walked in, and for us as the Kerry football team, you used to get this tiny dressing room…you could barely tog out there it was so small."
And he certainly enjoyed that particular day on a baking hot day down by the banks of the Lee.
Declan O'Sullivan's goal in the 42nd minute was the crucial score as Kerry claimed a 70th provincial crown on a scoreline of 1-11 to 0-11.
Ó Sé gave a masterclass on the day. Defensively sound, he glided up the field for two points on his way to a man-of-the-match display.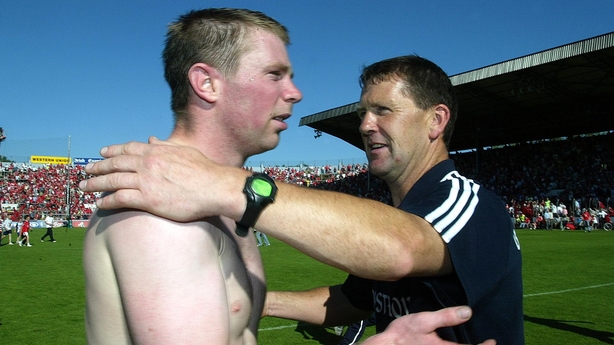 "It was a really hot day down there and it was nip and tuck. Yes we had a hoodoo over Cork, but by God they made us work every time for it.
"A lot of that team eventually won an All-Ireland in 2010.
"We respected them, they were a very good team. Mentally I think we were mentally tougher than they were."
A three-point win over Mayo in the last eight set up yet another meeting with Cork, who had successfully negotiated Sligo and Galway.
The sight of Croke Park seemed to raise the level of Kerry performance, but the prospect of losing to their old rivals on such a grand stage added another layer to the mental resilience.
"We used to improve all the time. I don't know whether it was on purpose or not – I don't think so – and there was nothing scientific behind it, we used to get better as we went along and progressed in the Championship.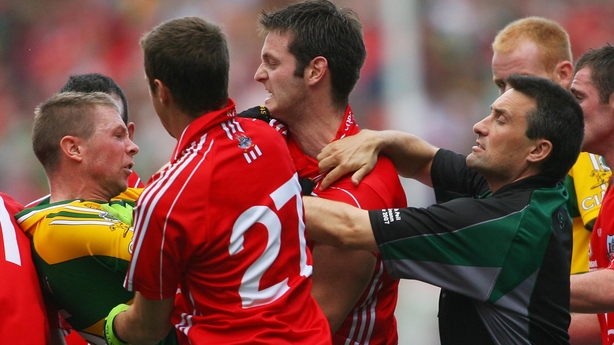 "When we got to Croke Park, there was a fear. We didn't want to lose to Cork. We didn't want to lose to anybody, but there was an added spice the fact it was Cork."
'Embarrassing for Cork, easy for Kerry, quickly forgotten by everybody else' – Irish Independent
The game itself was a completely one-sided affair. Three years after losing by 15 points at the penultimate stage to Kerry, Cork improved the margin of defeat by just two points.
Philip Clifford kicked Cork into a 0-02 to 0-00 score, but by the 21st minute, the contest was effectively over. The victors reeled off eight points on the bounce, with Colm Cooper causing huge trouble and his marker Niall Geary already called ashore by Billy Morgan.
"Niall Geary was handed one of the toughest jobs in football, trying to mark a man who almost sees angles before they are created…Cork waited 19 minutes before rescuing Geary from his misery, by which time Cooper had scored 0-04 from play." – Irish Independent
Clifford, Kevin McMahon and centre back Anthony Lynch were the only Cork players to score from play, with Ó Sé getting his customary score in a 1-19 to 0-09 win.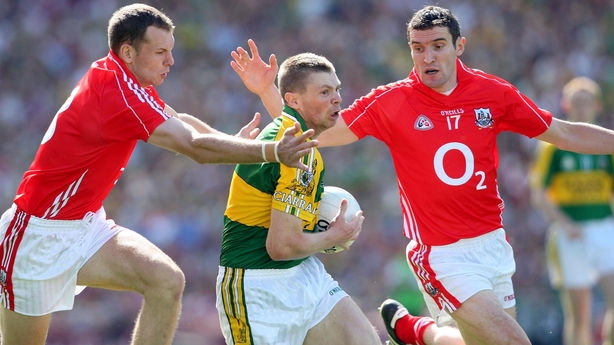 "As a team, we had the capability of racking up a serious lead. We did it that day. Some teams fought back at us and we were slow in replying to that.
"Cork never really rattled us that day, it was an easy game as such. It was one of the few occasions that it was very simple all the ways through."
****
Personal duels became sub-plots in the regular encounters between the sides. 
Ó Sé relished the battles with Kevin McMahon – "a very intelligent play, comfortable on the ball", and very often found himself on the physically imposing Pearse O'Neill, "a very serious player in his own right".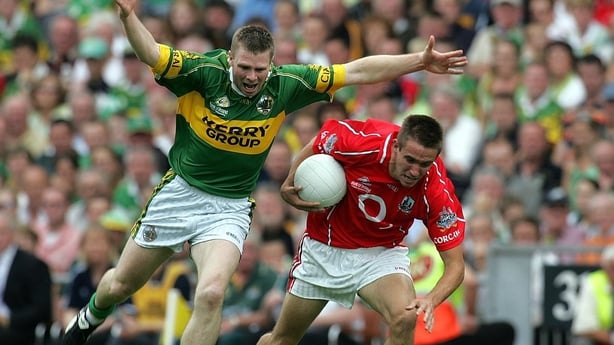 "They had very good players at the time, but I don't know if they had the belief to get over the line at the time when it mattered.
"I think a lot of people in Cork would say they underachieved, but I don't necessarily agree with that. They were close battles generally."
****
When he called time on his career in 2013, he could reflect on nine Munster titles, five All-Irelands and five All Stars.
In his 16 Championship seasons, Cork and Kerry met on 26 occasions, with Ó Sé absent on only one occasion, the 2011 Munster Final win in Killarney after his involvement in an off-the-ball incident the previous outing against Tipperary.
The occasion was "surreal" he admits, but did offer a different perspective on the rivalry. With the baseball cap pulled down and his son for company, he mingled in with the supporters to soak in the atmosphere, intentionally giving the dressing room a wide berth.
"As a player you are cocooned, you are so focused you actually don't know what is going on. You don't take in the crowd, or the atmosphere, the buzz.
"You don't get to take in the build-up.
"I knew I wasn't playing so I was able to read the papers, tune in to the radio and do everything that I wouldn't have done normally.
"All the colour and noise, it was fantastic. Of course I would have loved to have been out there, but it shows how lucky I was.
So just the six losses to Cork in a decorated career, and crucially, not a single defeat in a knockout fixture.
"I didn't know that…it's a fair record."
One Charlie Nelligan would be proud of.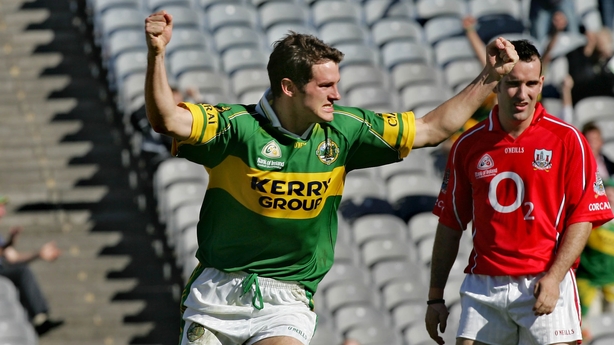 Kerry 1-19 Cork 0-09, 2005 All-Ireland semi-final, Croke Park
Kerry: Diarmuid Murphy; Marc Ó Sé, Mike McCarthy, Tom O'Sullivan; Tomás Ó Sé, Séamus Moynihan, Aidan O'Mahony; Darragh Ó Sé, William Kirby; Paul Galvin, Eoin Brosnan, Liam Hassett; Colm Cooper, Declan O'Sullivan, Bryan Sheehan.
Subs: Dara Ó Cinnéide for Bryan Sheehan (49); Mike Frank Russell for Liam Hassett (58); Eamonn Fitzmaurice for Tomás Ó Sé (65); Declan Quill for Colm Cooper (67); Kieran Donaghy for William Kirby (68).
Scorers: Eoin Brosnan 1-02; Colm Cooper 0-05 (0-1 free); Paul Galvin 0-03; Bryan Sheehan 0-02 (0-02 frees); Tomás Ó Sé, Liam Hassett, William Kirby, Aidan O'Mahony, Mike McCarthy, Mike Frank Russell, Dara Ó Cinnéide (0-01 free) 0-01.
Cork: Kevin O'Dwyer; Gary Murphy, Graham Canty, Niall Geary; Noel O'Leary, Anthony Lynch, Eoin Sexton; Derek Kavanagh, Nicholas Murphy; James Masters, Conor McCarthy, Kevin McMahon; Philip Clifford, Brendan Jer O'Sullivan, John Hayes.
Subs: Kieran O'Connor for Niall Geary (19); Alan Cronin for James Masters (half-time); Martin Cronin for Noel O'Leary (50); Kevin O'Sullivan for Conor McCarthy (53).
Scorers: Philip Clifford 0-02 (0-01 free); Kevin McMahon 0-02; James Hayes 0-02 (0-02 frees); James Masters 0-02 (0-02 frees); Anthony Lynch 0-1.
Referee: Joe McQuillan (Cavan)
Recap
Cork v Kerry - the Croke Park rivalry: 2009 – Tommy Walsh
Cork v Kerry - the Croke Park rivalry: 2008 – Diarmuid Duggan
Cork v Kerry - the Croke Park rivalry: 2007 – Colm Cooper
Cork v Kerry - the Croke Park rivalry: 2006 - James Masters
Cork v Kerry - the Croke Park rivalry: 2005 - Tomás Ó Sé