Cork and Kerry meet in Sunday's Munster football final, their 29th meeting since the qualifiers were introduced in 2001. Kerry's 16 wins puts them in the ascendancy and they have never tasted defeat when the sides have clashed in Croke Park. Declan Whooley is looking back on their meetings on Jones' Road this week, speaking to some of the players involved in the seven capital clashes. Today it's Cork sharp shooter James Masters, who only ever tasted defeat in the Championship at the hands of Kerry.
An All-Ireland intermediate hurling title in 2004 and retirement six months short of the footballers' 2010 Sam Maguire success bookended James Masters' six-year inter-county career, but the player himself has few regrets from his Cork playing days.
The Nemo Rangers clubman was happy to play both codes up through the age grades – "I actually preferred hurling when I was younger" - and looked at one point to be veering more towards the calling of the small ball game.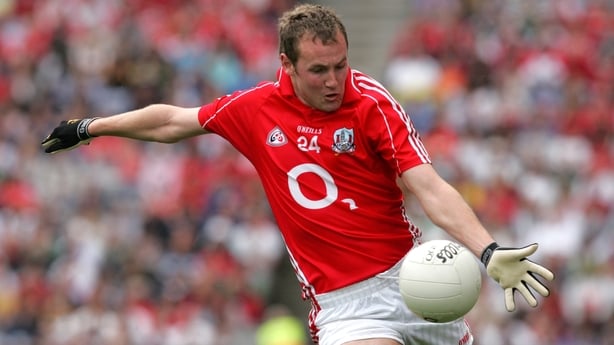 Masters' club form was rewarded at the start of 2004 when he was called into the Cork intermediate hurling panel, before a thumb injury curtailed his involvement. He returned after the drawn All-Ireland decider with Kilkenny, named among the substitutes for the replay.
Just 20 minutes had elapsed in a nip-and-tuck contest before the Nemo man entered the fray.
Level at the break, a purple patch mid-way through the contest saw the Rebels retain their crown courtesy of a six-point victory. Masters helped himself to two points and created the crucial goal against a Kilkenny side who had Richie Power keeping the umpires busy from centre-forward.
Enquiries were made by senior management the following season, but with Billy Morgan unable to call upon the some talented players because of their hurling commitments, it was a non-runner once the footballers came calling.
Could he have made it with the hurlers who were in the midst of four All-Ireland finals in a row?
"I had a great year in 2004, but I don't know if I would have made it. It would have been a huge step up," he admits, with Cork at the time gearing towards a successful defence of Liam MacCarthy.
****
In truth, Masters' pedigree and underage experience came with the footballers. In 2000 he captained the minors to All-Ireland success, though there was a set-back against Kerry along the way.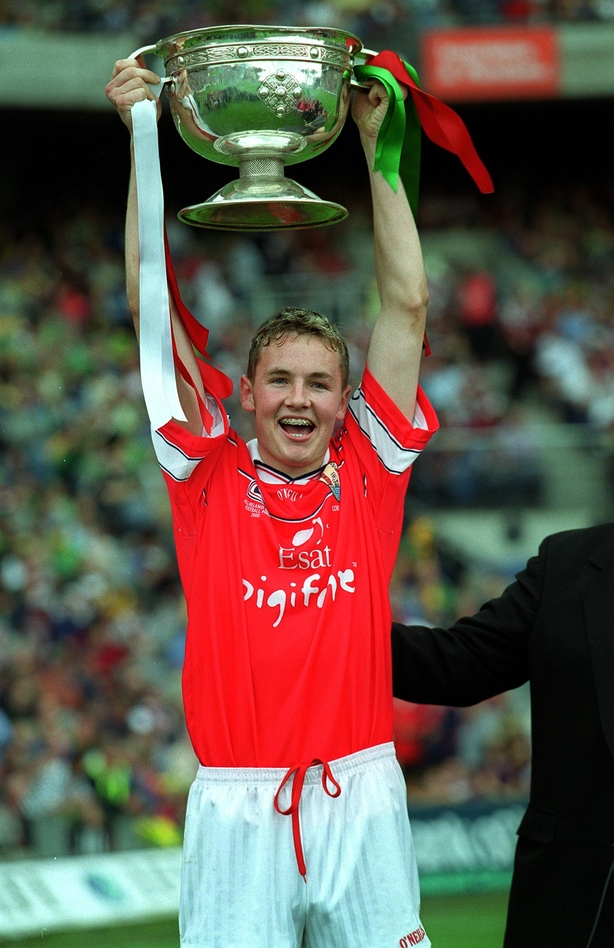 The full-forward had scored from play and a placed ball when he got the shepherd's hook after just 25 minutes - "I don't know why I was taken off and there was a lot of talk about it at the time" - but he dusted himself down for the semi-final and put in a man-of-the-match performance against Derry before Mayo colours were lowered in the final.
At club level he was forced to bide his time with a certain Colin Corkery occupying his favoured corner forward position.
The "apprentice", as his manager Billy Morgan called him, had to learn his trade, but as soon as he was called him into the Cork senior set-up, he was entrusted from the off.
"Anytime I got inside the 45, he pinned me. He was physically ridiculously strong and I was only starting out"
Masters' debut came against Clare and, operating in the half-forward line, he felt he played "okay" against Seamus Moynihan as Kerry claimed provincial bragging rights in 2005. By the time the rivals met later that year in the vast open spaces of Croke Park however, the Glenflesk man was keeping much closer tabs on his opponent.
"Any time I got inside the 45, he pinned me. He was physically ridiculously strong and I was only starting out and had very little strength and conditioning. I found it very difficult."
2006 would arguably prove to be his most consistent year in a Cork jersey as he finished the Championship as the second-highest score, and would go one better 12 months later.
Masters hit eight of Cork's eight points against Limerick in that year's low-scoring Munster semi-final and claimed all but three of Cork's points in the drawn encounter at Fitzgerald Stadium, including a pressure free in the final stages to ensure a second day out.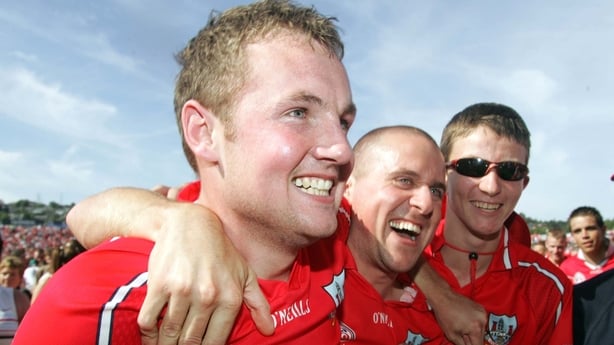 It was an especially sweet win for the Nemo man.
"I was well aware of the whispers that maybe I found the going tougher against better opposition so I was trying to prove a point really."
It got even better back on Leeside.
On a day where temperatures reached 27 degrees, it was the Cork attack that sizzled, with Masters leading the way in a man-of-the-match performance.
'Masters conducts orchestra' – The Examiner
'Magical Masters fires Cork to replay triumph' – Irish Independent
His tally of 1-06 was his highest against the green and gold in the Championship. A bounce of the ball deceived Mike McCarthy which allowed Masters to finish to the back of the net after 21 minutes and set the home side on their way.
With a resolute showing in defence, Cork coasted to victory as confidence grew among Morgan's troops.
The story however wouldn't be repeated back in Croke Park.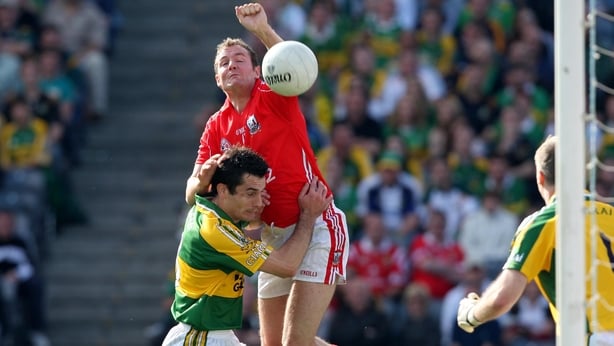 Morgan's side edged past Donegal in the last eight, and were beginning to convince doubters that they could end Kerry's interest in the Championship for the first time in seven years.
"We were more confident," Masters recalls ahead of the 2006 All-Ireland semi-final.
"We were clawing our way closer. We had great players as well, Graham Canty, Anthony Lynch, Nicholas Murphy, etc. Lads that were just as good as some of the Kerry lads.
"We had colossal men."
'Donaghy gives a towering display as Kingdom fine-tune game for final' – Irish Independent
Despite the provincial fillip, the Munster champions "never looked like winning". The thrust of July was replaced suffocating space of Croke Park and Tom O'Sullivan ensured there was no repeat of Masters' summer heroics, while support was at hand whenever Masters crossed the 45 metre line.
"Tom was a tricky marker. If you made a good run, he was so clever.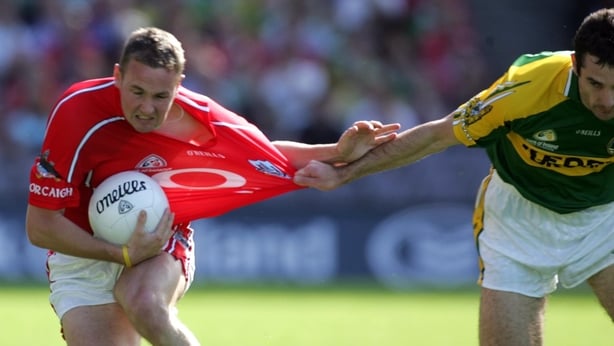 "If you were running full tilt, he'd cross your path. You'd go flying and it would look like a clash of legs. That's what good defenders do."
Unerring at the frees, a point from play was as much as he could muster, only bettered by Donnacha O'Connor.
With Kerry going on to easily account for Mayo in the decider, for Masters, there was good reason to believe that Cork were not a million miles away from the ultimate prize.
****
The following year Kerry edged the Munster decider, before demolishing their neighbours 3-13 to 1-09 in September.
"Kerry are so good at seeing out a game. Our heads went down and that was that."
One shred of comfort was finishing the Championship as top scorer, but from that point onwards it was downhill in the red jersey.
Cork began 2008 on strike over the appointment of Teddy Holland, but ended Conor Counihan's first year in charge as Munster champions and All-Ireland semi-finalists, though Masters only started the quarter-final victory over Kildare.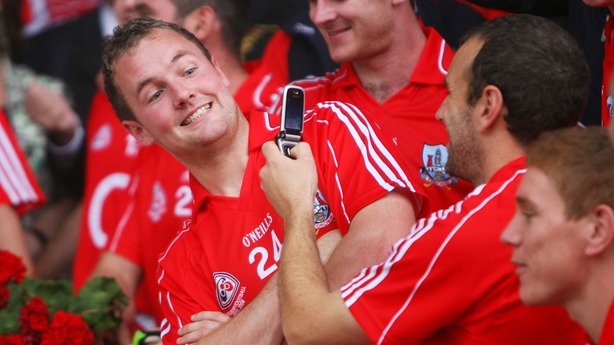 The following year followed a similar pattern as he battled with Daniel Goulding for a starting berth. He started all three Munster games (Cork defeated Kerry in semi-final replay), but played no part in the knockout stages.
His 26th Championship appearance came as a substitute against Kerry in the All-Ireland final, the only side he lost to in Championship football.
He wasn't to know it at the time, but it was to be his final outing in red.
****
In the winter of 2009 he decided to do all he could to persuade Counihan he was worthy of a starting spot. Masters hit the gym hard and his body fat was the lowest it had ever been, but was only afforded fleeting opportunities to impress off the bench in the League.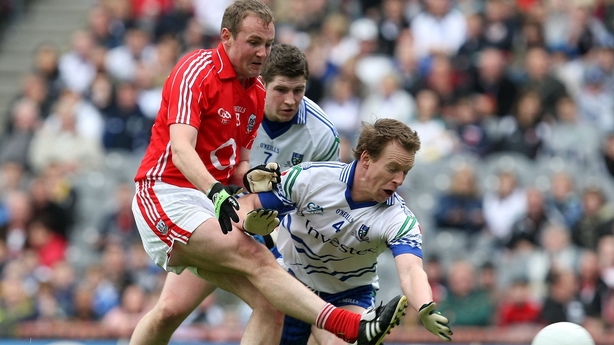 Feeling he wasn't getting a fair crack of the whip, he called time on his career, six months before his team-mates lifted Sam Maguire in Croke Park.
"I'd be the type if I'm not playing and not making inroads, that's it for me. There was never any clash with Conor, I just wasn't getting enough game time."
Masters was watching on from his sister's house as Cork edged past Down in a nervy final in September.
"You look back and say you could have done things differently, but there are no regrets."
"I have no regrets," he says. "I gave my life to football.
"It was definitely tough, but there were players that were there well before me. The ultimate is to win an All-Ireland, but I probably wouldn't have enjoyed it if I wasn't playing."
****
Continued success with the club cushioned the blow, but the rigour of his football career is evident with a yearly steroid injection for both hips - "a hip replacement is probably inevitable" - though he remains committed to the club, now offering his services at junior level.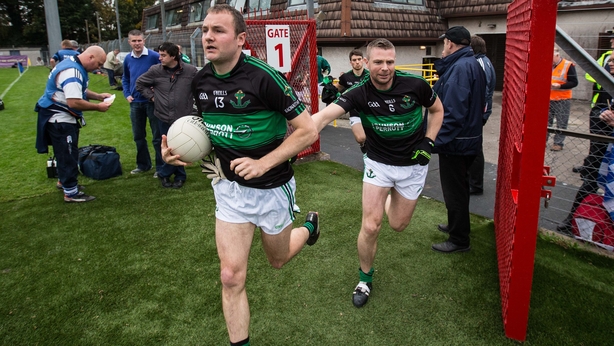 Nowadays Masters is more of a keen follower of the ladies inter-county game as a trainer to the all-conquering Cork team.
When Eamon Ryan departed from the hotseat in 2015 after leading the Rebelettes to 26 titles including ten senior All-Irelands, there were fears that Ephie Fitzgearld would struggle maintain their sky-high standards.
Masters won half of his eight county titles under Fitzgerald's stewardship at Nemo and when he was asked to join as a selector, he had no hesitation in linking up again with his former manager.
"I became coach within a month," he jokes, and has admiration for the "ridiculous commitment" for one of the country's most consistent and successful teams.
League, Munster and All-Ireland honours were secured in a dream first year and Masters is clearly enjoying working with such a high-performing group.
"People say it must be really tough to train the Cork ladies compared to a club team and it's actually the total opposite."
"I text the girls ahead of each training session. Even if they had small injuries, they wouldn't tell you and would train away."
Kerry more often than not proved a bridge too far during Masters' five seasons with Cork, but Munster title wins over the Kingdom in 2006 and 2008 were a reminder that they weren't as far away as some would suggest.
"You look back and say you could have done things differently, but there are no regrets."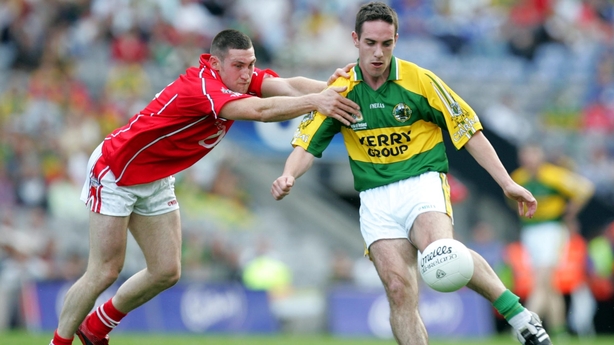 Kerry 0-16 Cork 0-10, 2006 All-Ireland semi-final replay, Croke Park
Kerry: Diarmuid Murphy; Mike McCarthy, Aidan O'Mahony, Tom O'Sullivan; Tomás Ó Sé, Marc Ó Sé, Séamus Moynihan; Darragh Ó Sé, Tommy Griffin; Seán O'Sullivan, Eoin Brosnan, Paul Galvin; Colm Cooper, Kieran Donaghy, Mike Frank Russell.
Subs: Declan O'Sullivan for Eoin Brosnan (44); Darran O'Sullivan for Seán O'Sullivan (59); Eamonn Fitzmaurice for Tommy Griffin (64).
Scorers: Mike Frank Russell 0-06 (0-3 frees); Colm Cooper 0-04 (0-03 frees); Seán O'Sullivan 0-2 (0-1 sideline); Tomás Ó Sé, Paul Galvin, Declan O'Sullivan, Kieran Donaghy 0-01 each.
Cork: Alan Quirke; Michael Prout, Derek Kavanagh, Kieran O'Connor; Michael Shields, Ger Spillane, Anthony Lynch; Nicholas Murphy, Pearse O'Neill; Seán O'Brien, Conor McCarthy, Kevin McMahon; James Masters, Donnacha O'Connor, John Hayes.
Subs: Gary Murphy for Michael Shields (27); Noel O'Leary for Michael Prout (half-time); Kevin O'Sullivan for John Hayes (half-time); David Niblock for Conor McCarthy (49); Fintan Gould for Pearse O'Neill (59).
Scorers: James Masters 0-05 (0-04 frees); Donnacha O'Connor 0-02; Conor McCarthy, Kevin O'Sullivan, Seán O'Brien all 0-01.
Attendance: 58, 703
Recap
Cork v Kerry - the Croke Park rivalry: 2009 Tommy Walsh
Cork v Kerry - the Croke Park rivalry: 2008 Diarmuid Duggan
Cork v Kerry - the Croke Park rivalry: 2007 – Colm Cooper
Cork v Kerry - the Croke Park rivalry: 2005 - Tomás Ó Sé