Cork and Kerry meet in Sunday's Munster Football Final, their 29th meeting since the qualifiers were introduced in 2001. Kerry's 16 wins puts them in the ascendancy and they have never tasted defeat when the sides have clashed in Croke Park. Declan Whooley is looking back on their meetings on Jones' Road this week, speaking to some of the players involved in the seven capital clashes.Today it is former Kerry star Tommy Walsh, reflecting on his All-Ireland success of 2009 before his subsequent AFL departure.
In what transpired to be a short inter-county career before professional sport came calling, Tommy Walsh made his GAA presence felt and few bore the brunt of his abilities quite like neighbours Cork.
Being the son of Seán Walsh, the seven-time All-Ireland winner, meant talk of following in his father's footsteps was never too far away.
An imposing physique and ability to win possession ensured there was genuine substance to such talk, so there were few eyebrows raised when Walsh was added to the 2005 minor panel that lost a Munster Final to Cork.
"My first year was a big step up," he recalls. "I was always a bit bigger than the lads I was playing against, but when I went up to that level, it was more of a level playing field.
"You have to learn to use more than your size."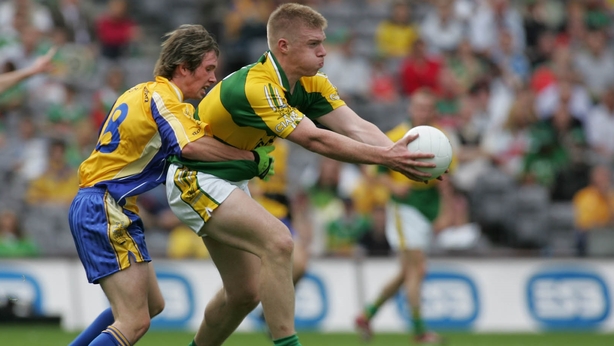 Though he wasn't used by management, the experience stood him in good stead as the Kingdom marched to an All-Ireland Final the following year before suffering defeat to Roscommon in a memorable final.
****
Not yet out of his teens, the Kerins O'Rahilly's player was invited on to the senior panel in 2007, making his debut in a National League outing against Limerick, but failed to get game time as Pat O'Shea led his county to All-Ireland success.
Similar to his first year at minor, it was about getting accustomed to his surroundings, though the ownership of a six foot six inch frame was a great help while learning his trade.
"I was probably lucky. I was strong enough and big enough to hold my own."
"The advantage I had was I was a big man from an early age," he says.
"When you go up to senior inter-county, you might be ready football wise, you might not just be developed enough physically when you make the step-up. From that point of view I was probably lucky. I was strong enough and big enough to hold my own.
"That might have made up for any football that might have been lacking."
Growing more comfortable in the star-studded environment, 2008 was all about making his mark. His first Championship start however was a somewhat auspicious start.
Clare provided the opposition for the All-Ireland champions in their Munster opener and with Kieran Donaghy struggling with an injury, Walsh was handed a starting berth.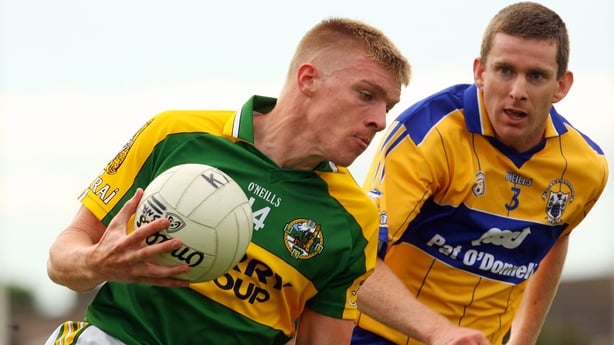 Few will recall that game for anything other than Paul Galvin's infamous altercation with referee Paddy Russell that saw the team captain red-carded and suspended right up until that year's All-Ireland Final.
"I was out there playing with lads I grew up watching. Looking back now, the nerves probably got to me."
For Walsh however, the game has bitter-sweet memories. Undoubtedly a proud moment to don the jersey in the heat of Championship fare, he struggled to impose himself in Ennis, scoring a point before making way for Donaghy in the closing stages.
"I was very nervous and I didn't play that well. I dropped a few balls which was one of my strengths.
"I was out there playing with lads I grew up watching. Looking back now, the nerves probably got to me."
Donaghy returned for the Munster Final against Cork – "I kind of knew the writing was on the wall after the Clare game" – but he was introduced for his first taste of the intense rivalry as the Rebels fought back from a dreadful start to claim provincial bragging rights.
The sight of Walsh towering over a Cork full-back line featuring Diarmuid Duggan, Kieran O'Connor and Anthony Lynch highlighted a potential attacking threat that would be utilised more extensively at the business end of the season.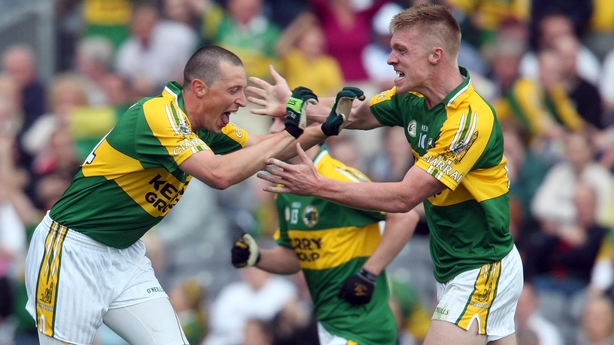 Monaghan and Galway were negotiated as the 'Twin Towers' of Walsh and Donaghy began to take hold of the Championship and the Austin Stacks man helped his callow team-mate when it came to the close attentions of opposition defenders.
"When you went through our team, there were a lot of big guys there, so I wasn't necessarily picked up by the biggest and strongest defenders in the opposing side. That probably helped too, particularly when Kieran Donaghy was there at full-forward. He was always going to take the strongest guy."
Standing in the way of yet another All-Ireland Final appearance were neighbours Cork and this time he was in from the outset.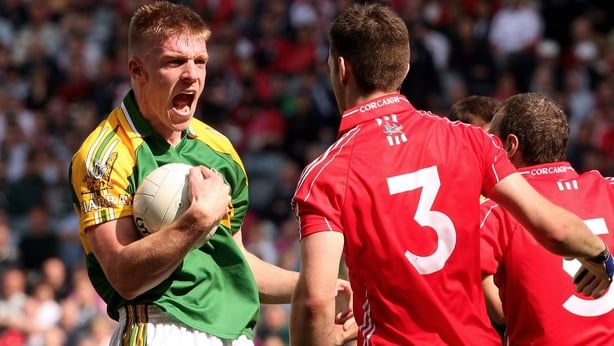 "Cork didn't really have huge guys in the full-back line.
"I had good players picking me up, but I had a height advantage. If the ball was in the air and it was a 50/50 ball, I had an advantage straight away.
"Often when you get to that level, it about getting the ball."
He lurked with menace and picked off two points before Cork staged an unlikely fightback to claim a draw. The second day out however he gave a tour-de-force.
By the 29th minute he had scored 1-01, provided chances for others and had seen his marker Diarmuid Duggan – man-of-the-match in the Munster Final – called ashore.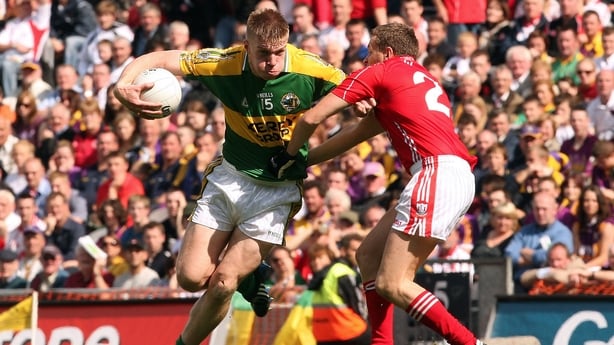 'The 20-year-old from Kerins O'Rahilly's, strong as a raging bull when on the rampage towards goal, fielded a long free from Aidan O'Mahony and simply bulldozed his way through before planting the ball in the net' – The Kerryman
The joy was short-lived as Tyrone proved yet again to be a thorn in the Kerry side in the decider.
"They got more bodies back behind the ball…nothing like today, but they were probably playing a bit more defensive than we were used to, but we were ready for that. We had a plan, it just didn't work out on the day."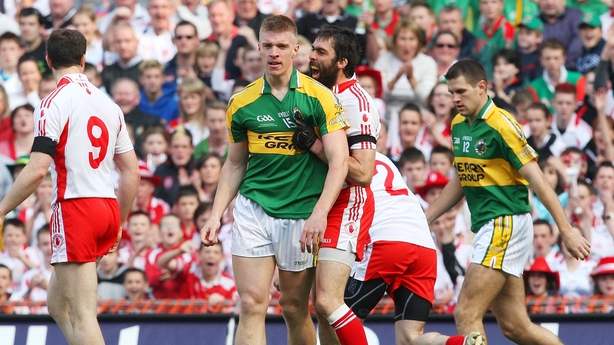 Being named the Young Footballer of the Year was somewhat of a consolation in his break-through year, as Jack O'Connor came in for his second stint as Kerry manager.
****
Walsh's stock was undoubtedly rising, though there was no fear of complacency from the Tralee man, especially in the competitive arena of Kerry training sessions.
"I knew that if I got the better of them at training, then I could beat anyone in the country if I was on my game."
"It certainly didn't feel like I was able to handle our defenders in training. I'd be marked by the likes of Tom O'Sullivan and Marc Ó Sé. I got great confidence from playing against those guys.
"Even though a lot of the time a lot of the time, the odd time I would get the upper hand. They were the best around. I knew that if I got the better of them at training, then I could beat anyone in the country if I was on my game."
The following year was something of a slow burner for a Kerry side looking to atone for an All-Ireland defeat. Cork ended their Munster interest at the second time of asking, coasting to an eight-point win on Leeside, before Sligo came close to one of the great shocks in Killarney in the backdoor.
Antrim too so nearly had their pound of flesh, before the Kingdom laid down a serious marker with the 17-point demolition of Dublin the quarter-final.
While it appeared no one in a green and gold jersey could put a foot wrong in the whirlwind first half, Walsh struggled and despite an unassailable lead, was called ashore before the interval. Only in Kerry.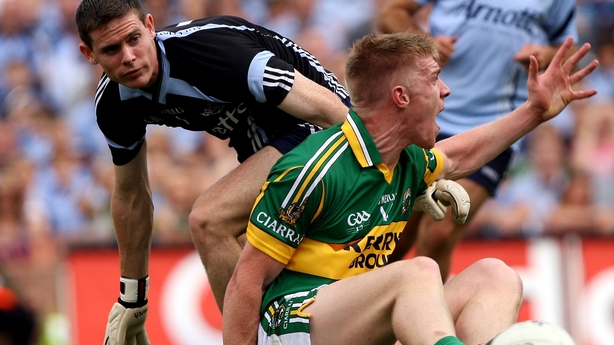 "Fourteen fellas were playing unbelievable and I just didn't play well," he admits.
"I lost the ball, I think I picked up two or three or four possessions and lost it twice. We were up seven or eight points. Maybe Jack could have left me on until half-time, but that was the competition.
"Tadhg Kennelly came on for me and played really well. That's why you need a strong squad and that 2009 squad was as good as any squad I have been involved in."
He knuckled down in training – "I knew that even if I didn't start the semi-final I would play an important role for the rest of the year, so I had to be ready" – and ready he was.
On a greasy day in Croke Park, the Kerins O'Rahilly man gave a man-of-the-match display after his introduction, plundering 1-02 in a low scoring affair.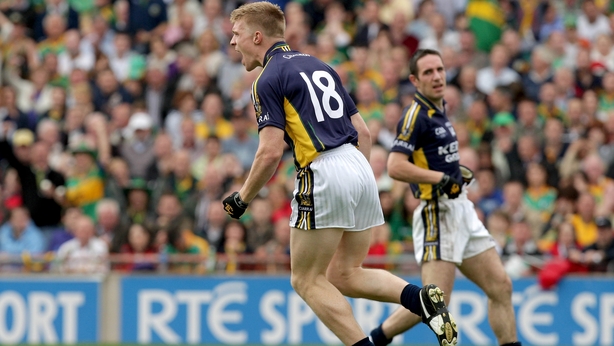 What did he bring to the game that day?
"I caused chaos, I suppose."
Part of him feared that his role as an impact sub might be used as a strategy for the All-Ireland Final, but he got the nod over Donnchadh Walsh for the decider, something he readily admits was a difficult decision for management.
"Cork were a great team who had proven they were able to beat us. We never went into those games over confident. We knew we had to perform and we did that day."
Colm O'Neill goaled early for the Rebels, but yet again they couldn't contain the glittering forward division.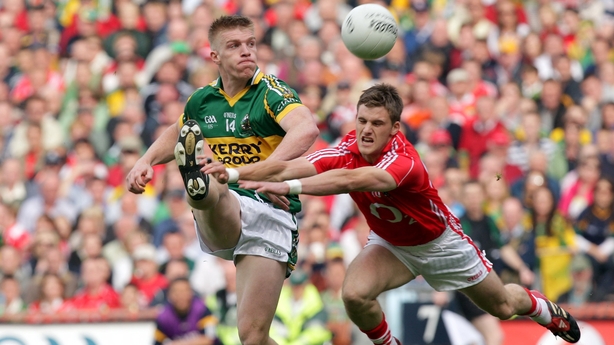 Tadhg Kennelly's hit on Nicholas Murphy at the throw-in became one of the major talking points, but Walsh credits the Listowel man for his own performance that day, helping him get off the mark as Kieran O'Connor was entrusted with picking up the corner forward.
Walsh ended the game with four points, O'Connor was withdrawn at half-time and the spoils yet again went Kerry's way.
8/10 - Four points in a tight All-Ireland final represents the most impressive haul from any forward. His last two deflated a Cork comeback that was beginning to gain momentum – Irish Independent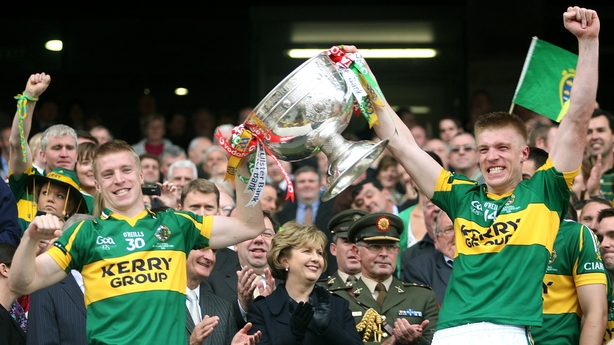 For a 20-year-old with Australian suitors, the game had even more significance.
"I didn't tell anyone I was leaving, but in my heart I knew that I wanted to try professional sport.
"Winning an All-Ireland was a dream come true, and if we had lost that day, would I have decided to stay? Who knows, I might have."
****
A two-year deal was signed with St Kilda, and mindful of the bigger picture, enrolled on a part-time postgraduate in Commerce in Sydney University.
"It was hard, but no harder than people at home working and then combing it with sport," and soon represented his country in the International Rules Series, also allowing Walsh the opportunity to return home for a short while to visit family and friends.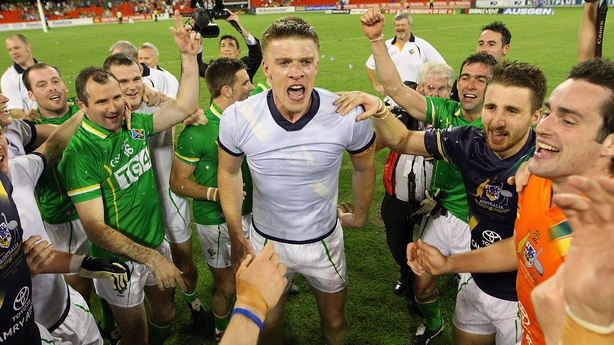 After two seasons, the Sydney Swans came calling. The ties with Kennelly helped, though he was reluctant to take his former team-mate's revered number 17 jersey upon his request.
"I didn't want to take the number at first. Tadhg is such a huge figure in Aussie Rules, but I met him for a coffee. We spoke for four hours and he changed my mind.
"It was an honour, a guy I played with and respected so much."
Injuries meant he could never get into his stride, and after only five games with the Swans, the decision was taken to come home.
How does he reflect now on the decision to swap Kerry for Australia?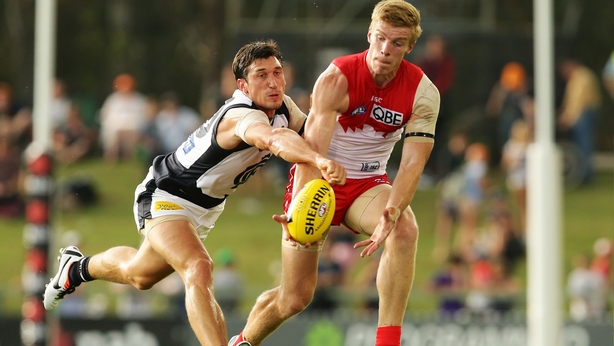 "It was the best decision I ever made," he says without hesitation.
"If I didn't go, I'd always be wondering, 'could I have made it as a professional?'. It was such a great opportunity and one I felt I had to take."
****
Talk of a return to the Kerry set-up was immediate, and despite the debilitating hamstring injury in his left leg, one which ultimately cut short Paul O'Connell's career, he felt he was able to perform to the standards required.
"The hamstring was probably around 80pc right, so not as strong as my right, but I felt it was enough to succeed in returning to inter-county football."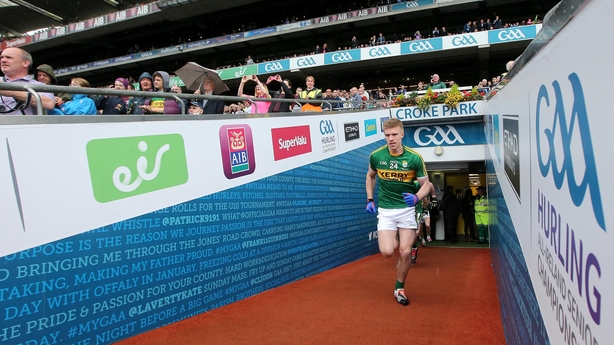 An impressive cameo against Kildare in the 2015 All-Ireland quarter-final seemed to be a taste of what was to come, but he didn't get out of his tracksuit against Tyrone or Dublin.
"I'm not the kind of guy who looks back with regret."
Last year he started just two games in the League and was an unused sub in the comprehensive League Final defeat to Dublin.
It just wasn't working out and Walsh stepped away from the environment he had been so used to thriving in.
There are no bitter feelings. He took his seat in Croke Park for last year's All-Ireland semi-final defeat to Dublin, and the tax advisor based in Cork is happy to follow his former team-mates as a supporter.
"I am a big Kerry fan. I'm not the kind of guy who looks back with regret."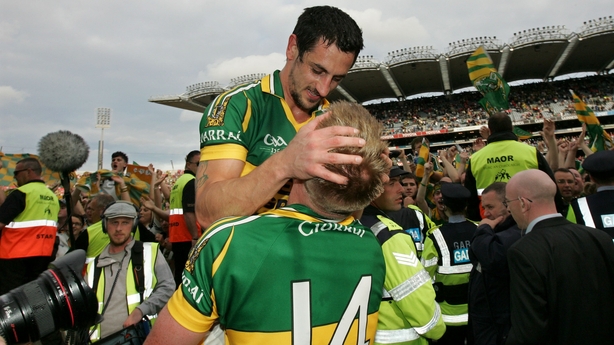 Kerry 0-16 Cork 1-09, 2009 All-Ireland Final, Croke Park
Kerry : Diarmuid Murphy; Marc Ó Sé , Tommy Griffin, Tom O'Sullivan; Tomás Ó Sé, Mike McCarthy, Killian Young; Darragh Ó Sé, Séamus Scanlon; Paul Galvin, Declan O'Sullivan, Tadhg Kennelly; Colm Cooper, Tommy Walsh, Darran O'Sullivan.
Subs: Donnchadh Walsh for Tadhg Kennelly (51), Mike Quirke for Darragh Ó Sé, Kieran Donaghy for Darran O'Sullivan (both 57), David Moran for Tommy Walsh (68), Aidan O'Mahony for Killian Young (69)
Scorers: Colm Cooper 0-06; Tommy Walsh 0-04; Tomás Ó Sé 0-02; Tadhg Kennelly 0-02; Declan O'Sullivan and Darran O'Sullivan 0-01 each.
Cork: Alan Quirke; Kieran O'Connor, Michael Shields, Anthony Lynch; John Miskella, Graham Canty, Noel O'Leary; Alan O'Connor, Nicholas Murphy; Paddy Kelly, Pearse O'Neill, Paul Kerrigan; Daniel Goulding, Colm O'Neill, Donnacha O'Connor.
Subs: Eoin Cadogan for Kieran O'Connor (half time), Fintan Gould for Paul Kerrigan (49), Derek Kavanagh for Anthony Lynch (58), James Masters for Daniel Goulding (62), Michael Cussen for Alan O'Connor (66).
Scorers: Daniel Goulding 0-04; Colm O'Neill 1-01; Donnacha O'Connor 0-3; Pa Kelly 0-01.
Referee: Marty Duffy (Sligo)
Attendance: 82, 286
Recap
Cork v Kerry - the Croke Park rivalry: 2008 – Diarmuid Duggan
Cork v Kerry - the Croke Park rivalry: 2007 – Colm Cooper
Cork v Kerry - the Croke Park rivalry: 2006 - James Masters
Cork v Kerry - the Croke Park rivalry: 2005 - Tomás Ó Sé